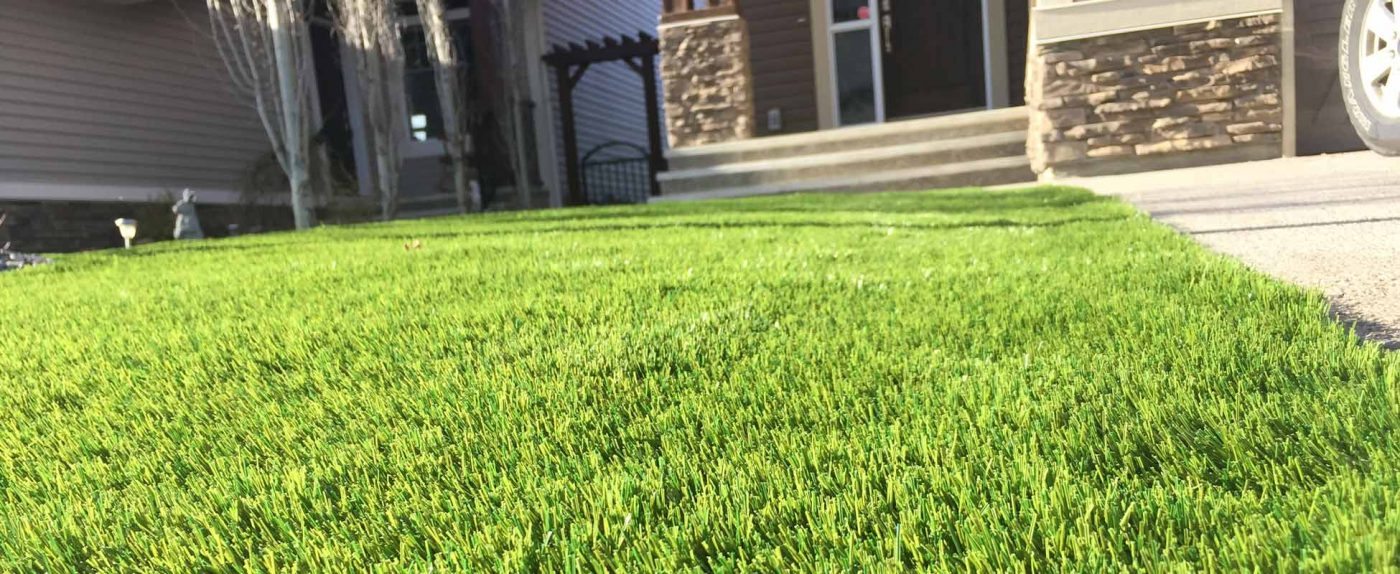 When it comes to providing artificial grass for front yard and backyard lawns for those living in Georgia, SYNLawn Georgia is the industry leader! Due to our experience, skill, and the total control we have over our manufacturing process, we provide exceptional high quality artificial turf. No matter how you want synthetic grass to be used in your front and backyard, we can design a fully customizable solution to fulfill your needs.
Artificial Grass For Front Yard Lawns
When it comes to front yards, the state of your lawn is important as they are a point-of-entry to your house and what people first see. And you want to create the right first impression for your home with a well maintained front yard artificial grass lawn. Certainly, having lush and green artificial grass will boost the curbside appeal of your home. Doing away with a barren or disheveled natural grass front yard, will make less work for you. Having a beautiful front yard made of synthetic grass is an amazing way to welcome and awe guests to your house. And it also can raise the resale value of your home, should you ever decide to put it on the market.
Synthetic Grass For Backyard Lawns
Unlike front yards, which are more of a status symbol to showcase to visitors and anyone passing by your house, backyards serve to function as a private and more of a multi-purpose area for entertainment, relaxation, and play. What's great about our synthetic grass is that it suits all of those needs perfectly. When it comes to entertainment, artificial golf grass and putting greens can be installed in your backyard. This allows you and anyone else to enjoy the social game of golf while having fun.
Pertaining to relaxation, our synthetic grass always maintains its radiant green beauty, creating a feeling of calmness in observers; its soft, plush synthetic blades of grass are perfect for lounging on. Even sunbathing in midday is made more comfortable with our latest designs in cooling technology and heat dispersal. And for the play areas for the children or pets, our artificial grass can be used in designing a safer playground for your children and is very kid friendly. Our padded under laying fabric is designed to soften trips and falls to keep the little ones from having hard falls. Because our synthetic turf is non-abrasive, feels just like regular grass, and has cooling technology to keep it from overheating, it is very comfortable for the children to play on.
Our pet grass is designed to also feature not only the cooling technology and hyper-realistic look and feel of natural grass, it's also easy to clean, odor controlling, and quick draining.

Additional Benefits Of Synthetic Grass For Your Front Yard & Backyard
Environmentally Friendly
Getting synthetic turf installed in your backyard or front yard can help your home to be more eco-friendly. This is because artificial turf doesn't ever need to be watered, fertilized, or treated with pesticides. In other words, this means more water being conserved and less chemicals being introduced to the environment.
Saves You Time
Unlike normal grass, synthetic turf demands very little upkeep. This means once you have it placed in your front yard and backyard, you won't have to waste your weekends and family time taking care of it. In other words, you'll be able to do things you really want to do with your time.
Saves You Money
The costs associated with artificial grass all are up front. With synthetic lawns, once installed, that's the end. While normal grass in your front and backyard would demand you regularly spend time fertilizing it, watering it, hiring gardeners to tend to it, and more, artificial turf doesn't need any of that.
Drains Water Fast
While inclement weather can wreak havoc on regular grass lawns by creating huge puddles and pools of mud everywhere, that won't happen with synthetic turf. Our artificial grass in your front and backyard prevents water from accumulating and damaging your lawn by draining quickly.
Why Choose SYNLawn Georgia For Synthetic Grass In Your Front & Back Yard
As we already mentioned, SYNLawn Georgia has the skill, years of experience, and full control over the entire artificial turf production process makes us among the very best at what we do. Additionally, we are also quite familiar with the local area we serve and are familiar with intricacies that other companies may not be, not to mention we love what we do.
So if you are interested in getting artificial turf in your front yard or backyard, contact us here and one of our very knowledgeable staff will be glad to answer any questions or concerns you have. Start with a consultation, which is offered completely free of charge.