Artificial Grass for Dog & Pet Boarding, Daycare, & Kennels
SYNLawn Georgia offers specialized artificial dog and pet grass for various types of pet businesses in Atlanta, GA, including pet boarding, daycare, and kennels. Our top-of-the-line artificial pet turf offers several benefits for both dogs and other household pets as well as pet owners and pet business owners. This makes it an ideal surfacing option for numerous types of pet businesses in Atlanta as well as several other Georgia communities.
Utilizing the Right Surfaces for Dog Businesses in Atlanta, GA
Dog and pet businesses in Georgia rely on all sorts of specialized tools, equipment, toys, and more to ensure that their furry, four-legged clients are well cared for. One of the most essential considerations for any pet business to make is what kind of surfaces they want for their property. In many cases, pet boarding facilities, daycares, and kennels will have grass placed somewhere on their property to provide dogs and other pets with a space to play and socialize. Unfortunately, pets can quickly and easily tear up traditional grass, leaving little behind for other pets to enjoy. Thankfully, at SYNLawn Georgia, we have a solution for this: our artificial dog and pet grass.
Benefits of Artificial Dog & Pet Grass for Pet Boarding, Puppy Daycare, & Dog Kennels
At SYNLawn Georgia, our artificial pet grass offers a variety of considerable benefits to pet boarding facilities, dog and puppy daycares, and dog kennels as well. The most significant of these benefits include the following: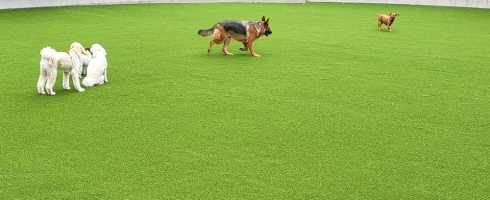 Safer Surfacing for Pets
The most significant advantage of our synthetic pet turf for pet businesses is that it ultimately provides a safer surface for dogs and pets. This is due to a variety of factors, but the most notable are its soft, cushioned surface and inherent inhospitality to pests like ticks, fleas, and more. By providing pets with a soft surface to play and relax on, it helps keep them safer from surface-related injuries. And by being unwelcoming to insects and rodents, pets are kept safer from bothersome and potentially harmful pests.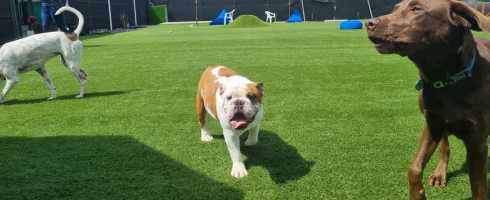 Easy to Clean
Pet business owners and workers will love the fact that our artificial pet grass is not only great for pets but great for them too! Unlike traditional grass and other surfaces, our synthetic pet turf is designed to be quick-draining. This makes cleaning and keeping it clean incredibly easy! Thanks to its antimicrobial backing, all you need to do is spray it down with water to clean it. As a result, cleaning up pet waste on a dog-friendly lawn or dog run is a breeze!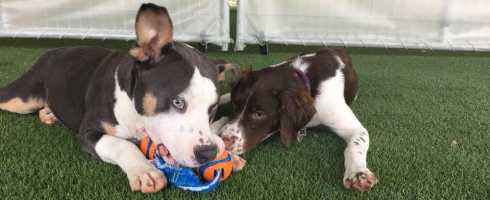 Durable for All Breeds – Small to Large
Surfaces for pet boarding facilities, daycare centers, and kennels need to be built tough for all kinds of dogs and other pets. Fortunately, at SYNLawn Georgia, our artificial pet turf is prepared to stand up to wear and tear from dogs of all breeds – even larger dogs. This ability to help resist wear and tear as well as digging is due not only to the design of our synthetic pet grass but to the high-quality materials used when manufacturing it. As a result, it can provide a pet business in Georgia with a reliable, long-lasting surface.
Why Choose SYNLawn Georgia for Artificial Grass for Pets?
For Georgia pet businesses, there are many choices for surfacing. However, none can quite compete with the SYNLawn artificial grass available from us at SYNLawn Georgia. Not only do we offer highly beneficial artificial pet turf, but we also provide our residential and commercial customers with friendly, informative service as well as expertise in designing and installing artificial grass. In doing so, our team of experts provides comprehensive synthetic turf services to help transform your pet business for the better! Check out our commercial installations gallery to see our work in action!
Georgia Pet Businesses Can Request a Free Artificial Turf Consultation Today!
At SYNLawn Georgia, our artificial dog and pet grass provides an ideal surface for pets of nearly all kinds at pet boarding facilities, daycare centers, and kennels in Atlanta, GA. With it, dogs and other household pets can enjoy safer, softer surfaces that are also strong enough to withstand wear and tear. For more information on these benefits and more, contact us today to schedule a free consultation!