ATLANTA, GA ARTIFICIAL LANDSCAPING GRASS
Enjoy a Beautiful, Low-Maintenance Landscape with Synthetic Turf in Atlanta and its Surrounding Cities
At SYNLawn Georgia, we offer homes and businesses in Atlanta, GA quality artificial landscaping turf that can help them save money and possibly add value to their property. Sadly, many home and business owners are used to paying hundreds of dollars each month for professional landscaping companies to maintain traditional grass lawns. This is largely because the alternative is spending several hours a week tending to weeds or trimming edges yourself! Instead, you can use synthetic landscaping turf to obtain the natural look and feel of a traditional lawn but with significantly less upkeep! And less upkeep means less expenses!
Let the team from SYNLawn Georgia create an artificial grass landscape design that will blend seamlessly with the existing elements around your home. Whether in the front lawn or backyard, our synthetic landscaping grass can be applied almost anywhere to create an outdoor landscape that doubles as an extension of your living space. With our quality landscaping turf, design expertise, and professional installation, you can enjoy the beauty of a lush, green lawn all year round without worrying about brown patches, weeds, or high water bills!
Cut Landscaping Costs
As synthetic turf becomes more popular throughout Georgia, home and business owners are starting to see the financial benefits of our turf and its applications. One of the most noticeable benefits of installing artificial grass is the drastic reduction in water expenses. Our synthetic grass does not need to be watered to stay lush and green, which means home and business owners can enjoy up to 70 percent savings on their monthly water bills.
Yet this is not the only way synthetic landscaping grass can help save home and business owners money. Our artificial turf also eliminates the need to mow or fertilize your lawn, which allows owners to save time and money when it comes to lawn equipment and lawn maintenance. Once your new synthetic landscape from SYNLawn Georgia is installed, you can spend your time enjoying it – not maintaining it.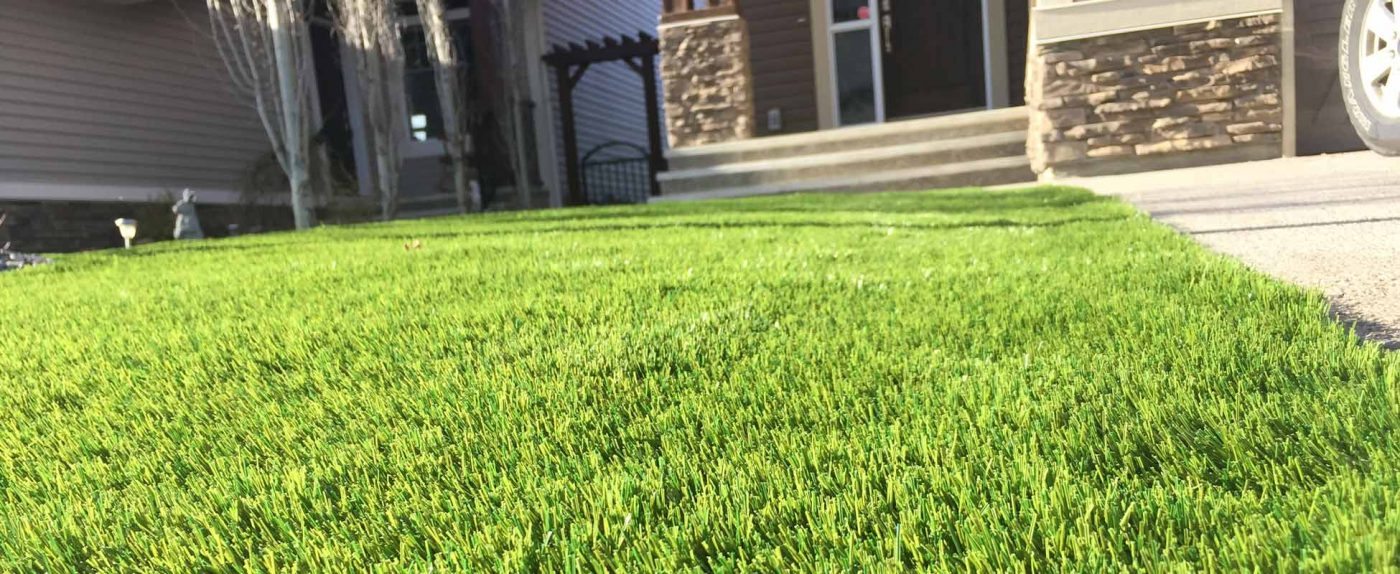 Add Value to Your Atlanta Home
Make your neighbors and guests green with envy with artificial landscaping grass that always looks great and requires little upkeep. Our finely manicured landscaping turf that looks beautiful all year long improves curb appeal and helps welcome friends and family to your home. This is because we use durable synthetic materials during our manufacturing process that allow our artificial landscaping grass to maintain a pristine appearance through heavy foot traffic and all weather conditions. Where traditional sod may fall short, artificial grass is there to stand the test of time, year after year. In doing so, it can even help raise the property value of your home!
Synthetic Landscaping Grass & More!
Our artificial landscaping grass is ideal for outdoor use on nearly any type of property in Atlanta or the rest of Georgia. It can create sweeping green expanses that invite people into your home or business. It can also be paired with one of our other synthetic turf products to create a landscape with specialized areas. At SYNLawn Georgia, we offer a wide variety of specialized artificial turf options that can be paired with our synthetic landscaping grass, including:
Create the green landscape of your dreams with our artificial landscaping grass and specialized synthetic turf products!
Schedule a Free Consultation for Artificial Landscaping Turf!
At SYNLawn Georgia, our synthetic landscaping turf is a cost-saving investment for homes and businesses in Atlanta, GA and other communities across the state. Our artificial grass is ideal for nearly all landscaping applications and can blend seamlessly with existing elements in your outdoor spaces, such as trees, flower beds, and more. Contact us at SYNLawn Georgia today to schedule a free consultation to learn more about our amazing artificial landscaping grass!