Artificial Grass for Roofs, Decks & Patios in Atlanta, Georgia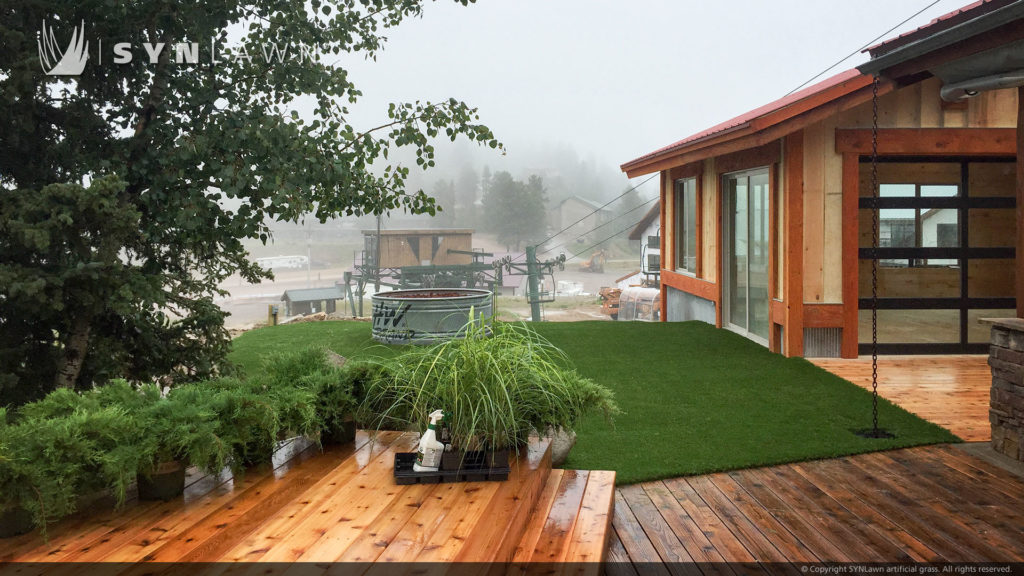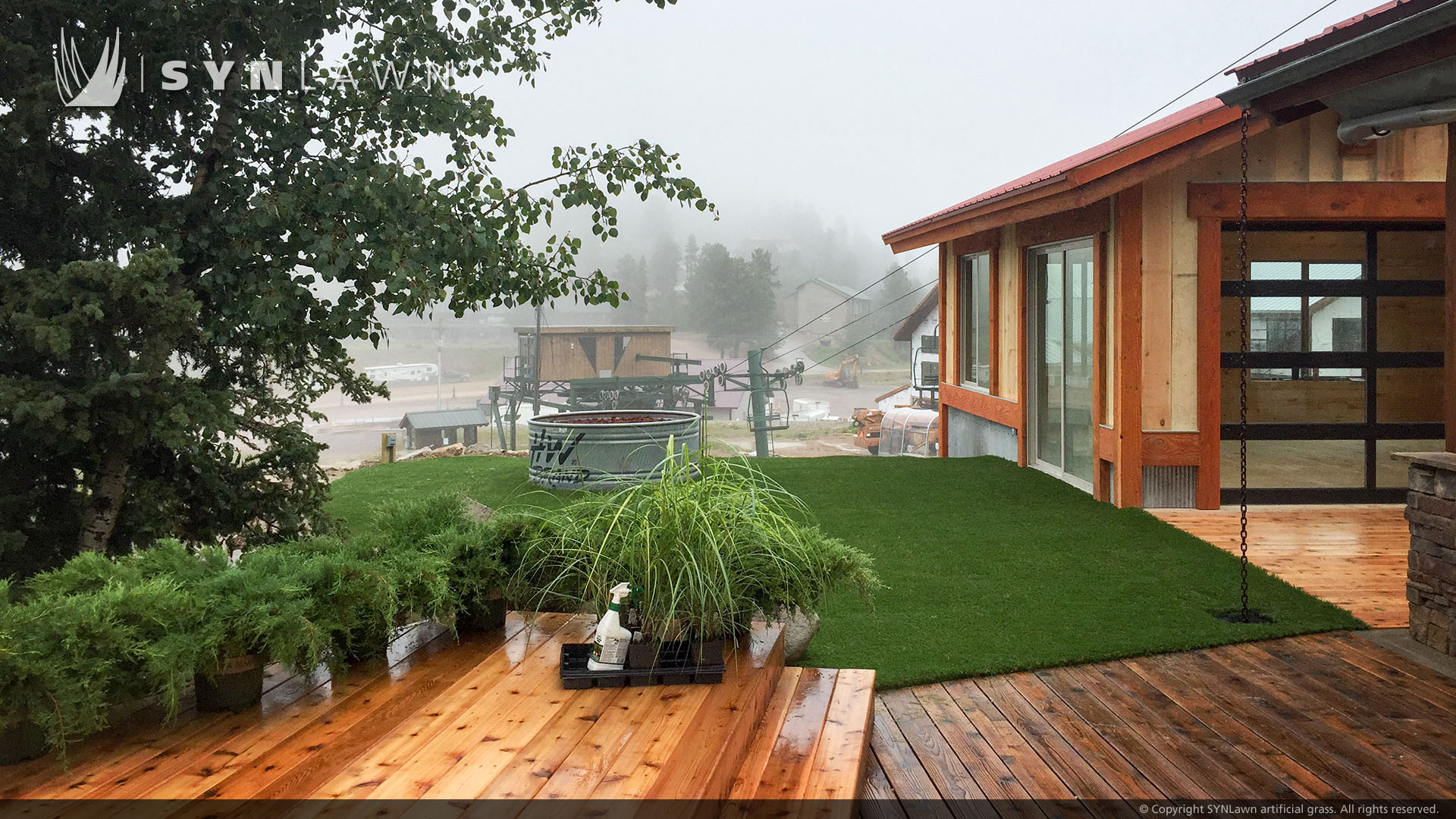 SYNLawn Georgia is one of the leading manufacturers, retailers, and installers of artificial grass for roofs, decks, and patios in Atlanta, GA. In recent years there has been a dramatic increase in the use of artificial grass for decks, and one reason is its overall beauty. Another reason is the luxurious feel compared to the scorching concrete, wood, or brick surfaces typical of Georgia infrastructure. In addition, artificial grass maintains its lush green appeal all year without irrigation or pesticides. With artificial grass you never worry about dirt, which is usually an issue if you have children or pets.
Over the last few decades, SYNLawn Georgia became one of the most creative artificial grass installers in Georgia. We install synthetic turf on homes and commercial facilities, backyard putting greens, playground turf, and sports fields. When it comes to roofs, decks, and patios, this is another creative area for our artificial grass lawns, putting greens or playground turf whereas, most individuals never associate these spaces with anything other than protection against the elements.
At SYNLawn Georgia, we view these spaces differently. If adorned with suitable turf, they are instantly transformed into gathering areas where you can enjoy socializing with family, friends, and business associates. Today, our artificial grass for rooftops, decks, and patio turf are seen in apartment buildings, restaurants, offices, hotels, new condominium buildings and commercial spaces all over Atlanta. Our artificial grass is also ideal for renovating a tired space to transform it into a vibrant and lively green oasis.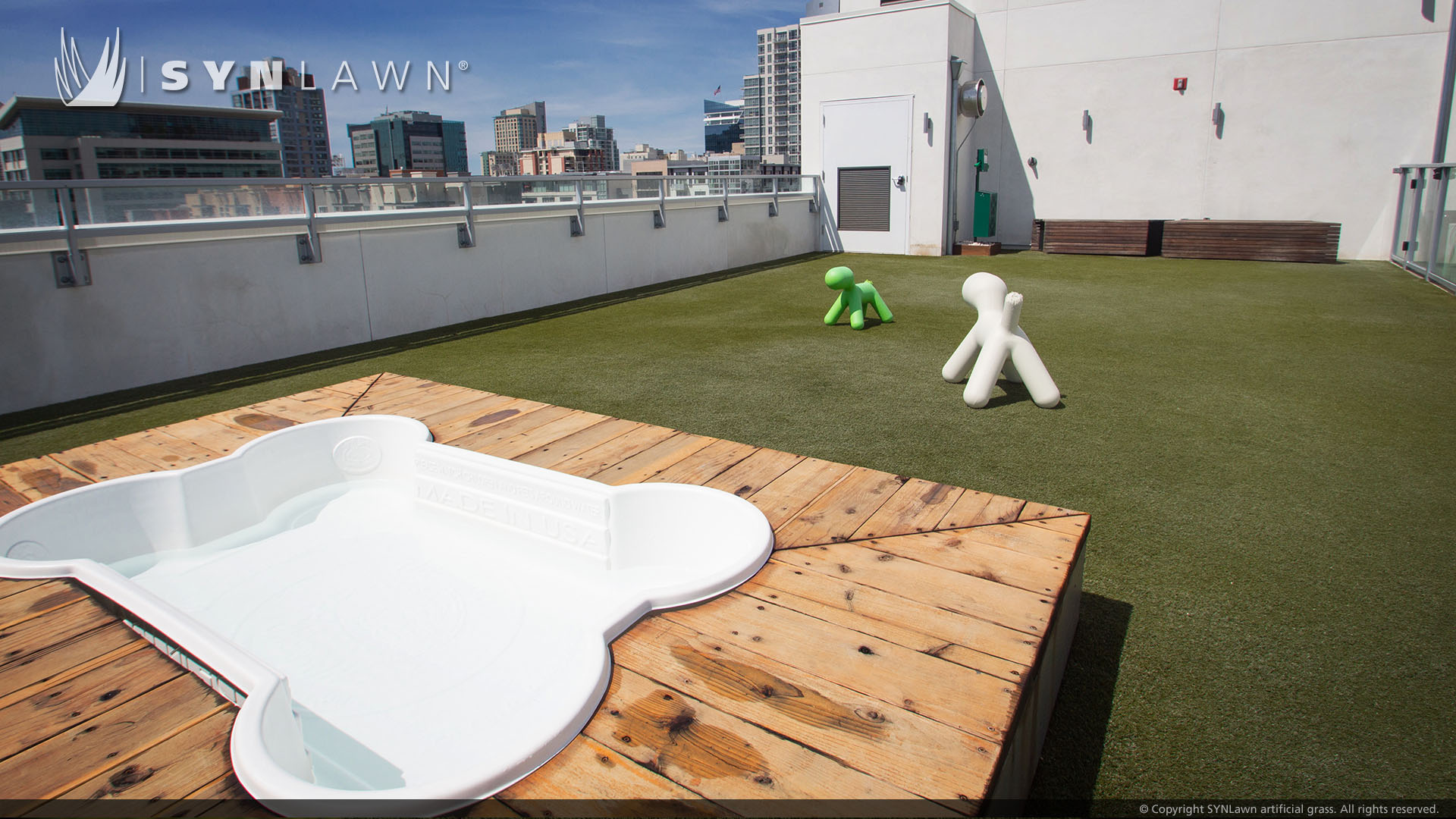 Applications
SYNLawn Georgia has a proven track record of turning rooftops, decks, and patios into usable space. Our artificial grass has been used to construct gorgeous rooftop gardens, entertainment spaces and improve balconies and terraces in urban residential and commercial buildings all over Atlanta. Take a look at our product gallery to see more of what we offer.
Benefits of Synthetic Turf
– Low Maintenance
One of the most celebrated benefits of artificial turf is its low maintenance qualities. The turf does not require any watering, lawn mowing, chemical treatments, or tedious landscaping work. The only maintenance is occasional cleaning with a water hose to remove dust particles. With a properly installed synthetic turf, you only need to replace infill periodically or clean and disinfect on an as-needed basis, especially if your turf receives a lot of foot and pet traffic.
– Attractive
Nothing completes a space better than artificial turf when it comes to decorative landscaping on a roof, deck, or patio. It transforms the aesthetic qualities of an area and increases the value of the property. Want to create a secluded retreat in the heart of an urban environment or a fun hangout place on top of your house where family and friends can enjoy time together? SYNLawn Georgia makes it happen.
– Climate Control
Unbeknownst to many, synthetic turf on rooftops helps conserve energy. Installing the turf insulates against extreme temperatures and helps regulate indoor heating systems, especially during winter. This benefit significantly lowers energy costs. When the weather is hot, artificial turf helps the air conditioner function more efficiently, with its heat dispersing abilities. This results in a reduction in both energy usage and emissions from heating and cooling systems.
– Durability
We designed our rooftop turf using polypropylene. This component allows it to be durable enough to withstand prolonged exposure to any type of weather and foot activity. Also, because our turf is easy to clean and deodorize, it's an excellent choice for patios and decks frequented by kids and pets.
Ready to Order?
SYNLawn Georgia's rooftop, deck, and patio turf solutions are ideal since they stay immaculate throughout the year, regardless of the weather. The owner does not need to contend with watering, mowing, or toxic fertilizers to maintain its overall quality and appearance. Our turf is visually stunning, durable, cost-effective, and environmentally friendly.
If you're considering adding synthetic grass to your roof, deck, or patio for either your home or business, our skilled staff are happy to explain the numerous benefits and walk you through the installation process. Contact us to schedule your appointment.