Mini Golf Construction in Atlanta, GA
The experts from SYNLawn Georgia offer our experience in mini golf construction and artificial golf grass to properties in Atlanta, GA. So whether you want to add a small mini golf course to your home or a larger, more fantastical one to your commercial business, our team has the skills, knowledge, and supplies to help bring your vision to life. Plus, with our top-of-the-line synthetic golf surfacing, your new mini golf installation will have incredible grass that looks attractive, resists wear and tear, and requires little maintenance.
Why Choose a Miniature Golf Installation?
Golf is one of the most beloved activities in the United States as well as the rest of the world. Its miniaturized spinoff also shares immense popularity, especially in Atlanta, GA. Mini golf is a highly accessible activity that can be played by people of all ages and skill levels. By pairing this with imaginative scenes and obstacles, miniature golf courses create exciting and memorable experiences, which can make them exceptional installations for residential homes as well as commercial businesses.
Artificial Golf Grass From SYNLawn Georgia
At SYNLawn Georgia, we offer leading-edge artificial golf grass in Atlanta, GA, which is ideal for putting greens, backyard putting greens, mini golf courses, and other golf installations. Our specially designed synthetic golf surfacing offers numerous benefits, including the following: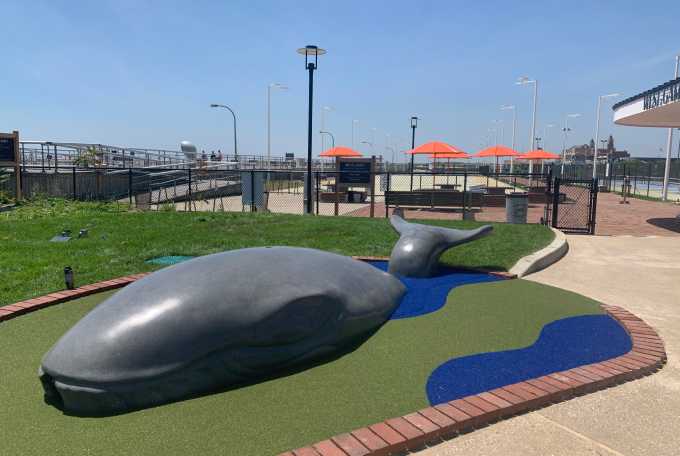 Consistently Beautiful
One of the greatest benefits of utilizing artificial grass for golf installations and other surfacing projects like lawns and landscapes is that it always looks its best. Sadly, traditional grass surfaces are unreliable – often looking far less than ideal. Thankfully, our synthetic golf turf provides mini golf courses with consistently green surfaces that are always perfectly trimmed and beautiful to admire.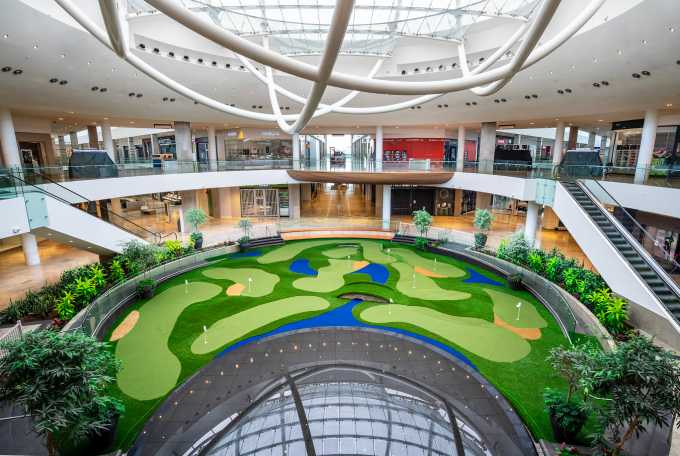 Low-Maintenance
Conventional golf grass can be one of the most time-consuming and costly forms of surfacing. It requires irrigating, precise trimming, and so much more. Instead, our artificial golf turf needs little maintenance other than an occasional cleaning. This makes it a less time-consuming and expensive surfacing option in the long run, which can help save home and business owners money over time.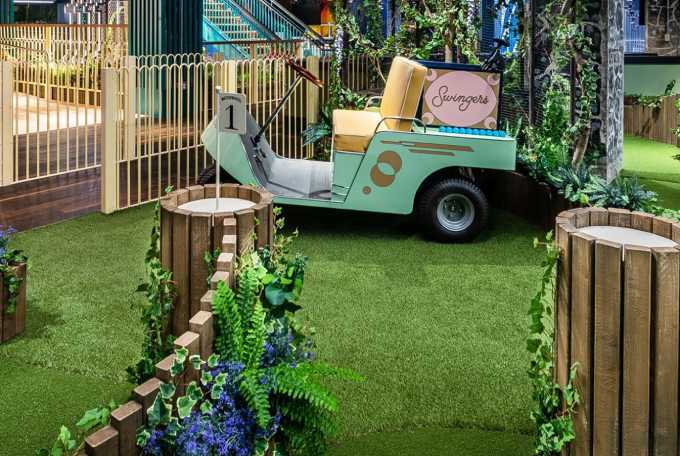 Specially Engineered for Playability
For many golfers, the idea of playing on something other than traditional grass can be intimidating. Thankfully, at SYNLawn Georgia, our artificial golf grass goes above and beyond! It has been specifically engineered to provide golfers and mini-golfers alike with the playability they would expect on conventional golf grass, including optimal bounce and ball roll. This makes our artificial golf turf more than suitable for mini golf construction in Atlanta, GA.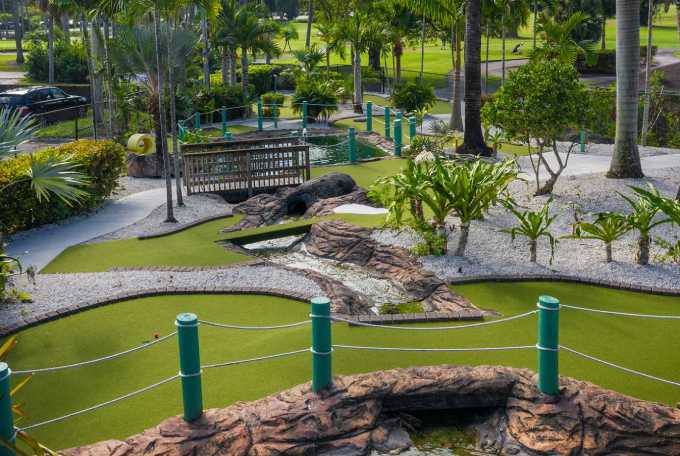 Highly Durable
Commercial mini golf courses can see hundreds to thousands of guests playing on their course in the span of a week, a few days, or even a day. This amount of foot traffic, club swinging, and more can lead to inevitable wear and tear. Fortunately, the artificial golf surfacing from us at SYNLawn Georgia is highly durable. In doing so, our synthetic golf grass blades and backing can withstand multiple forms of wear and tear, including foot traffic, club swinging, and more. This makes it a long-lasting surfacing option for mini golf construction in Atlanta, Georgia.
Our Expertise as a Mini Golf Installation Company in Atlanta, GA
Aside from supplying industry-leading artificial golf grass, the team from SYNLawn Georgia also offers expertise as a mini golf installation company in Atlanta, GA and other Georgia communities. We work with each of our clients to design and construct mini-golf courses that excite and delight players. From start to finish, you will receive friendly, professional service and communication, helping to ensure you receive the mini golf course you desire.
Schedule a Consultation for Mini Golf Construction Today!
At SYNLawn Georgia, we offer professional mini golf construction to craft amazing, fun courses for homes, businesses, and more in Atlanta, GA. With our exceptional artificial golf grass and unrivaled expertise, we can help build the miniature golf course you have been waiting for. Contact us today to schedule a free consultation to learn more!