Artificial Grass for Churches in Atlanta, GA
At SYNLawn Georgia, we offer artificial grass for churches and other places of worship, helping them take their communal spaces in Atlanta, GA, to a new level. Our state-of-the-art artificial turf is not only aesthetically pleasing, but it is also an economical and safer alternative to traditional grass lawns. Let's explore how our synthetic grass is helping to transform worship spaces while supporting community initiatives in Atlanta, Georgia:
Why Choose Artificial Grass For Your Atlanta Church?
Artificial grass is becoming increasingly popular for its extensive benefits over traditional grass. It provides a lush, year-round green look that instantly helps uplift the aesthetic value of virtually any place. However, the advantages go far beyond appearances! One of the biggest selling points of artificial grass is its low maintenance requirements. With it, there is no need for watering, mowing, fertilizing, or treating pests, which significantly reduces maintenance costs. As a result, it is an investment that can help pay for itself over time and a sustainable alternative that aligns perfectly with the environmental stewardship values of many worship communities.
At SYNLawn Georgia, our artificial grass solutions have been particularly beneficial for churches and places of worship in Atlanta, GA, as they allow them to redirect funds and volunteer hours from grounds maintenance towards more community work. Imagine: no more Saturday mornings spent sweating over the lawnmower, but rather dedicating that time to feedind the homeless, mentoring youth, or organizing faith-building activities. That is the real beauty of artificial grass – it gives back in more ways than one!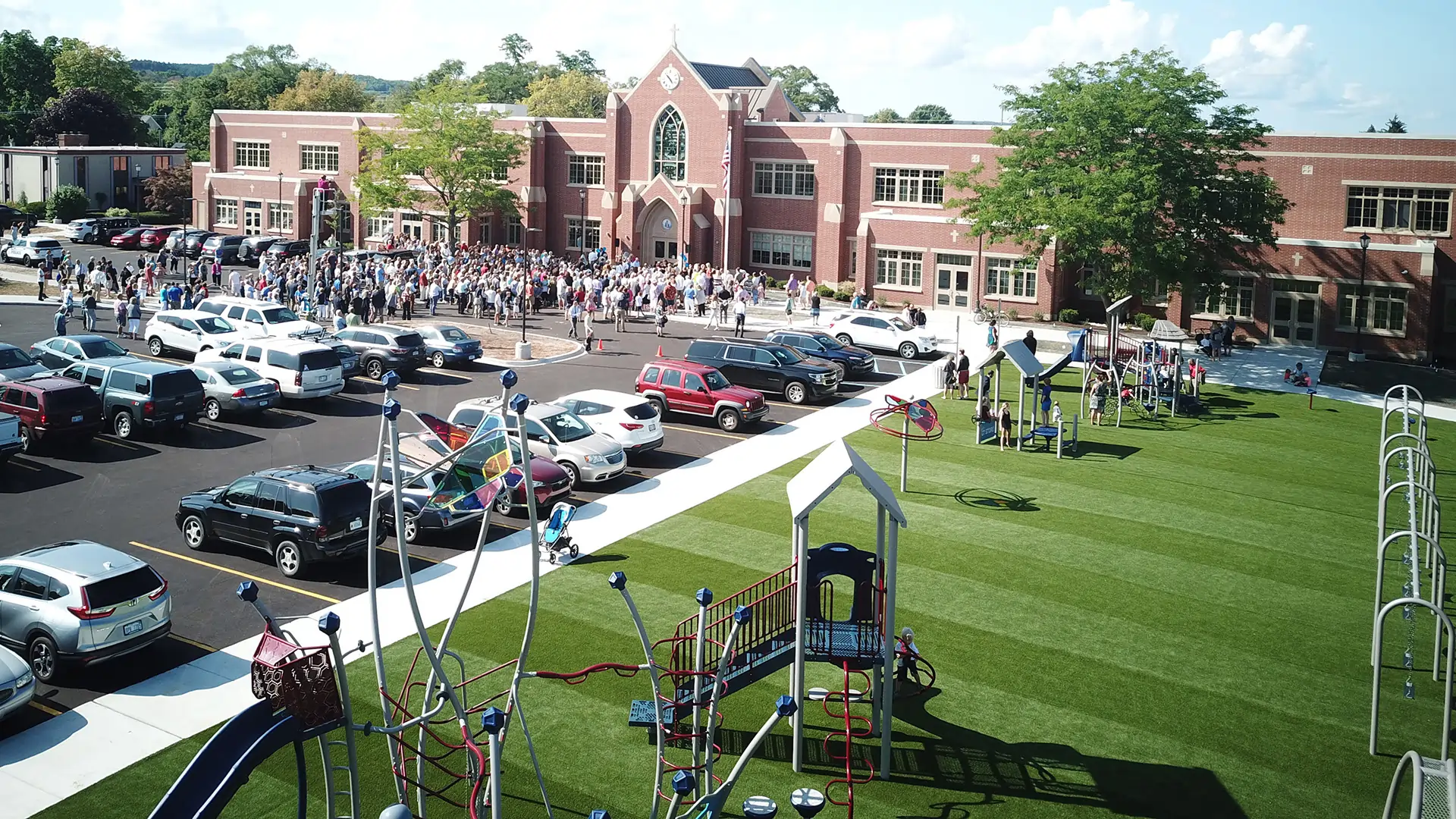 Durability & Versatility of Synthetic Grass
The durability and versatility of synthetic grass from SYNLawn Georgia make it suitable for various applications around church grounds. Some of the many options include artificial grass for outdoor worship areas, courtyards, lawns, playgrounds, and walking paths in Atlanta, GA. Not only does it provide a cleaner and mud-free space for congregation members, but it is also helpful for hosting events, social gatherings, and outdoor classes, making it a genuine asset for any place of worship.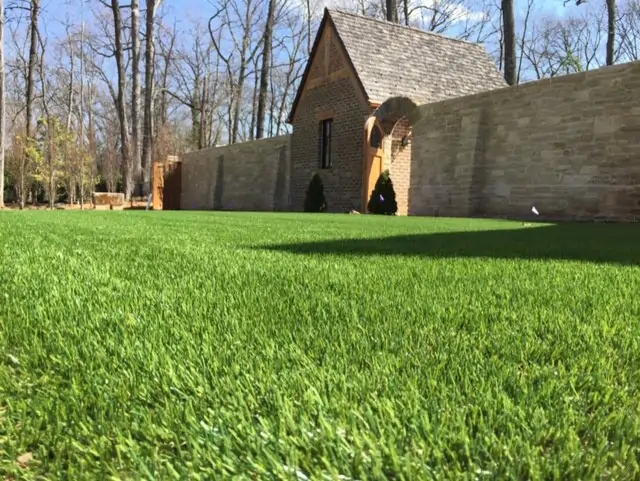 Artificial Grass Playgrounds for Georgia Churches
The benefits of artificial turf do not stop at beautifying outdoor spaces and saving time and resources. One of the most impactful applications of our artificial grass lies in creating safer, more reliable playgrounds. Children's safety is paramount, and SYNLawn has developed innovative artificial playground grass that significantly reduces the risk of injuries, particularly when compared to traditional playground surfaces.
Our artificial playground turf is designed to have a soft and non-abrasive texture, which is gentler on the skin during falls or slips. Plus, it has exceptional drainage capabilities, meaning it dries quickly after rain, reducing the risk of slips and falls due to wet, muddy conditions. It is also resistant to wear and tear, so no more bald patches or exposed roots posing tripping hazards. This makes it a playground solution that is as resilient as it is safe.
In addition, artificial playground grass from SYNLawn Georgia is hypoallergenic, which means fewer allergens for children with allergies. It is also lead-safe, free of any harmful chemicals, and provides a cleaner environment for children to play – as it does not harbor pests or bacteria like conventional grass can.
Contact Us Today to Learn More About Artificial Grass for Church Lawns, Courtyards, & More in Atlanta, GA!
At SYNLawn Georgia, our artificial grass for churches and other places of worship in Atlanta, Georgia offers countless benefits. It is a solution that helps pay for itself over time and allows your community to focus on what truly matters: faith, fellowship, and service to others. With our artificial turf, it is easier than ever to maintain a beautiful, welcoming space for worship and community activities. It can also provide a safer surface for playgrounds, making it ideal for churchgoers of all ages!
Contact us at SYNLawn Georgia today for more information and to get a quote for our artificial grass for churches!