Artificial Grass for Hotels in Atlanta, GA
At SYNLawn Georgia, we supply and install artificial grass and synthetic turf products for hotels in Atlanta, GA and several other areas. Our top-of-the-line artificial turf requires minimal upkeep and can provide your property with lush, verdant beauty for years. In many ways, it can help turn indoor and outdoor spaces at your hotel into the inviting retreat that your guests have been searching for.
Hotel Surfaces & Artificial Turf
Hotels in Atlanta, Augusta, Columbus, and Savannah, GA provide more than just a place for their guests to sleep; they also provide them with experiences. Some of the most successful hotels are filled not with plentiful rooms but with beauty. There is beauty in the architecture, in the decor, and yes, even the surfaces. Like any other element of a hotel, its surfaces must always look their best. Luckily, at SYNLawn Georgia, our artificial grass lawns, landscapes, and more offer on-point-style and year-round beauty. They also offer incredible durability, which helps them retain their gorgeous green appearance for years. Not only can this impress your hotel's guests, but it can also enhance their overall experience.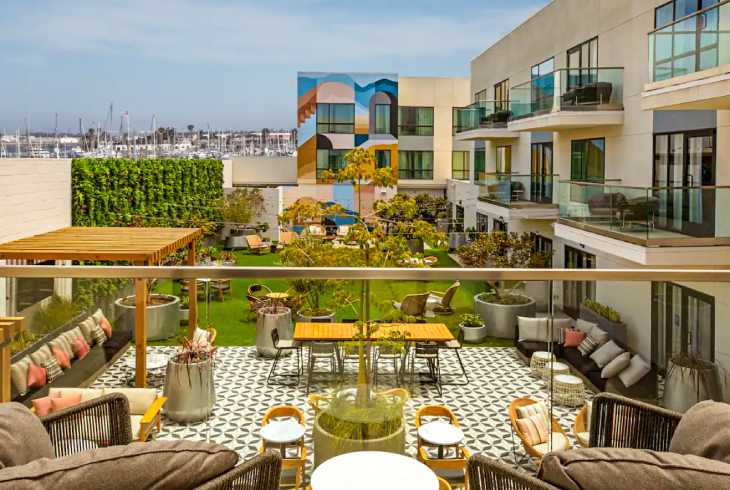 Another stunning addition for hotels in Georgia that we provide are our artificial green walls! These consist of panels that feature highly realistic synthetic plant life. They can be installed on nearly any existing indoor or outdoor wall. As such, our low-maintenance and long-lasting artificial green walls are an amazing way to introduce or add greenery to nearly any hotel space – from lobbies to pool bars and even high-end suites.
Synthetic Grass Amenities for Hotels
Amenities are another factor that is essential to hotels. Thankfully, our synthetic grass can be used to help create new amenities or improve existing amenities on your property. Some examples of this include:
Putting Greens
At SYNLawn Georgia, we offer unrivaled artificial golf grass. This product is ideal for the game of golf, which makes it exceptional for use as a putting green for guests. By adding a well-designed artificial putting green from us to your hotel, you add a highly fun, accessible, and impressive amenity for your guests – whether they are skilled or amateur golfers.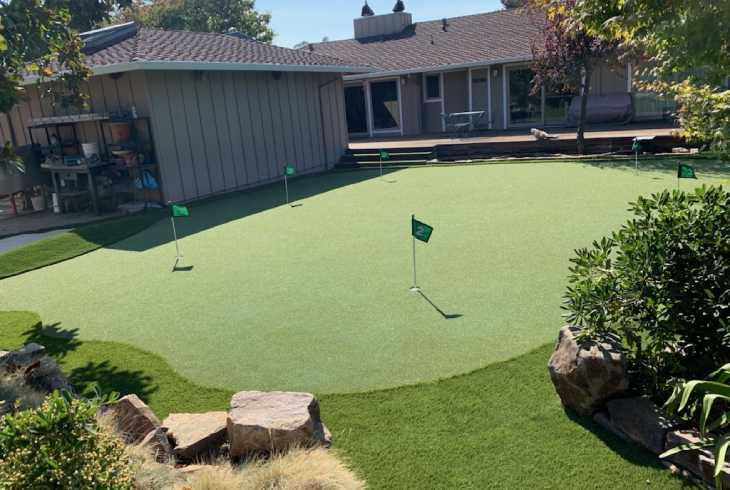 Playgrounds
For hotels that cater to families, it is crucial to have areas dedicated to children. One of the best ways to do this is to install or upgrade a playground on your property for your guests. At SYNLawn Georgia, our artificial playground turf provides a soft, durable surface for playgrounds and play areas. As such, it offers a safer and more long-lasting surfacing solution.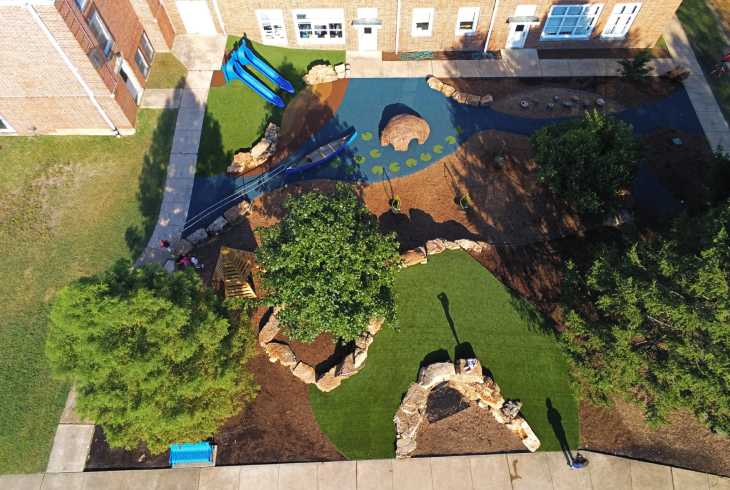 Common Areas
The common areas of any hotel, motel, or resort are vital to the overall look and feel of the property and the guest experience. However, constantly maintaining traditional grass in these areas can be time-consuming and costly. Fortunately, our artificial grass for common areas is the solution! It requires little upkeep and retains its lush, green appearance throughout its long life, making it ideal for common areas and more!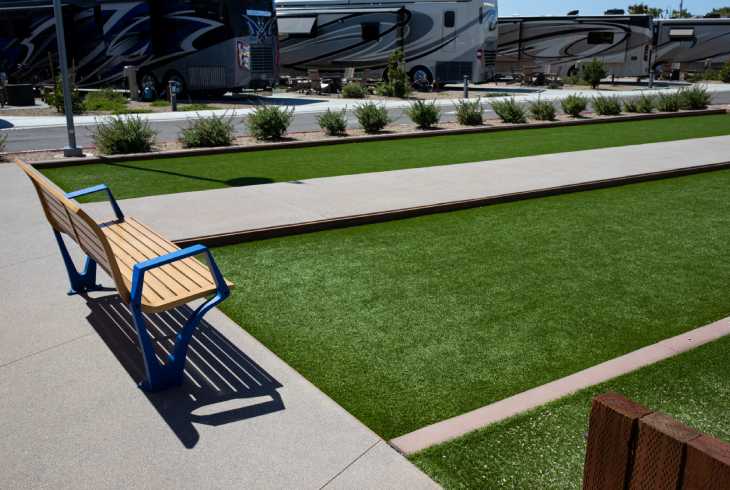 Parks
Parks can be another amazing amenity to add to or improve upon at your hotel in Atlanta, Augusta, or Savannah, GA. They not only give your guests an area to explore but a potential place to unwind and connect with the outdoors. And with our synthetic landscaping turf, you can worry less about park maintenance and focus on providing ideal guest experiences.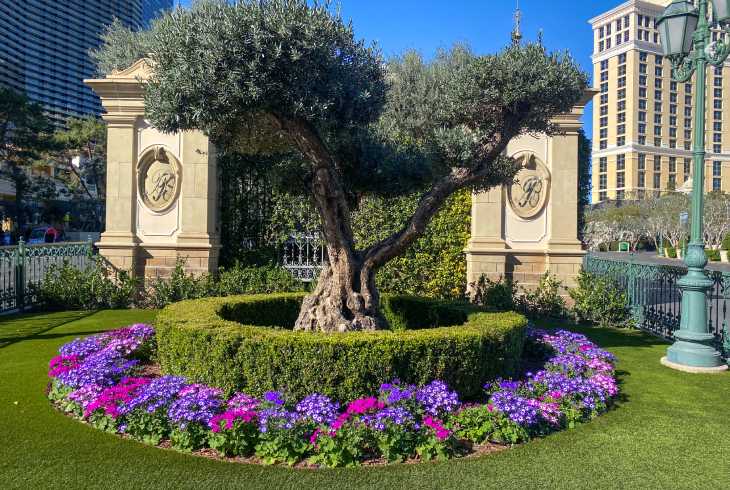 Benefits of Artificial Grass Surfaces
At SYNLawn Georgia, our artificial turf provides hotels, motels, and resorts with numerous benefits for them and their guests. Some of these benefits include:
Consistent visual appeal all year round
Little to no upkeep
No need to water or mow
Exceptional durability
Resistance to foot traffic, wear and tear, and the weather
Eco-friendly
Does not produce grass allergens
Inhospitable to insects and other pests
Many specializations (putting greens, playgrounds, pets, etc.)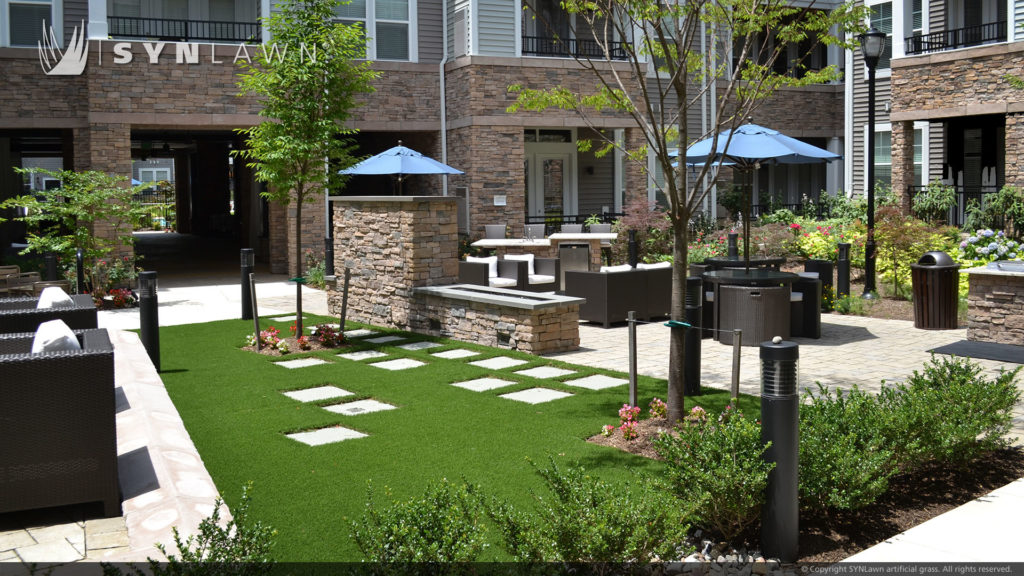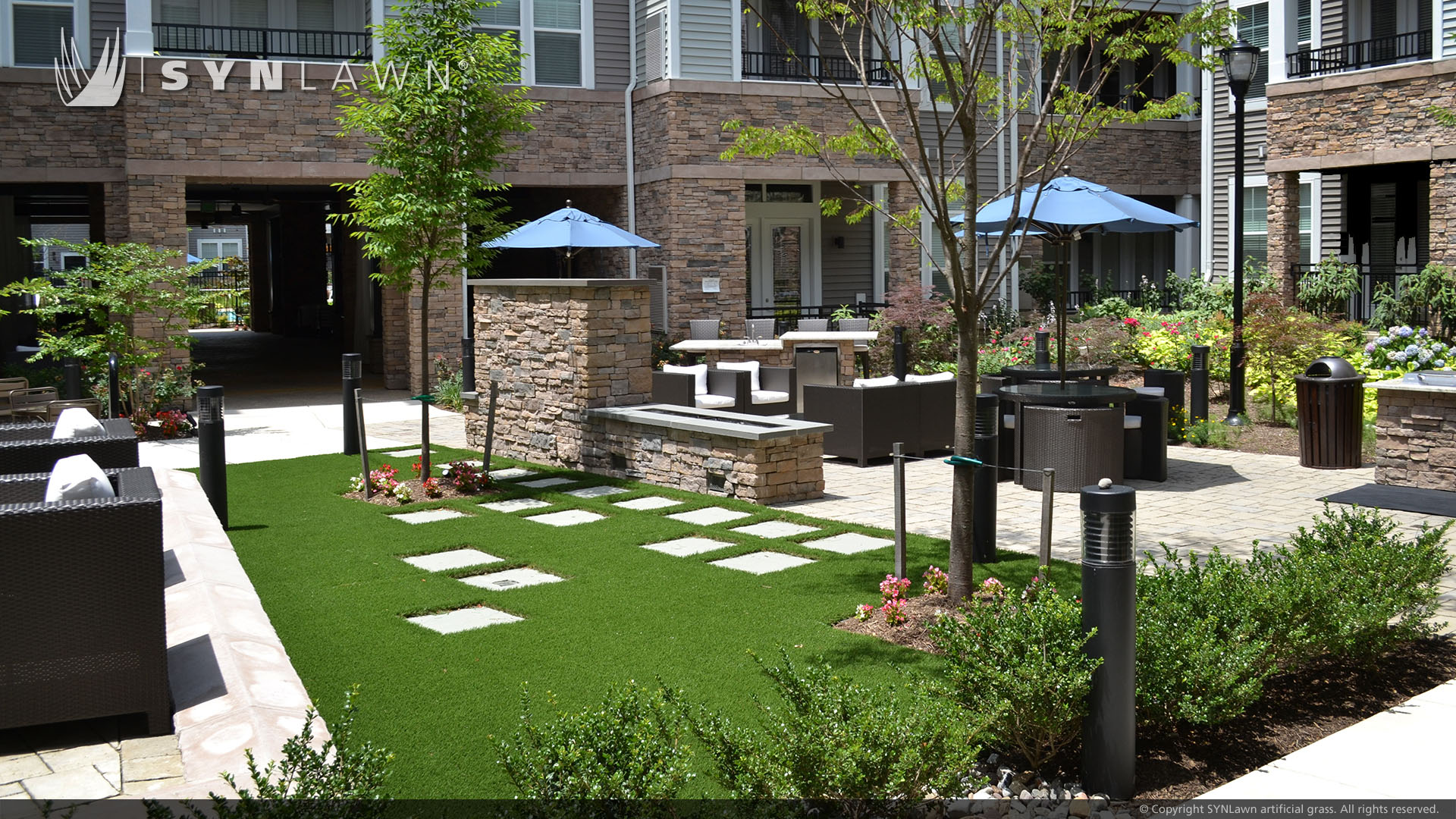 By utilizing our incredible artificial grass, you and the guests at your hotel can experience soft, evergreen surfaces that enhance their overall environment.
Why Choose SYNLawn Georgia for Artificial Turf?
For hotels in Georgia, there are several reasons to work with the artificial grass experts from SYNLawn Georgia. Our team not only supplies top-of-the-line synthetic turf that is made in the United States, but we also provide residential, commercial, and other types of properties with artificial grass design and installation. As a result, we are a comprehensive artificial turf company, offering all the services you need to attain a beautiful, budget-friendly lawn or landscape. We also offer a limited lifetime warranty!
Get a Quote for Synthetic Turf for Hotels Today!
At SYNLawn Georgia, we offer leading-edge artificial grass for hotels in Atlanta, Augusta, and Savannah, GA. Our beneficial synthetic surfacing products provide spectacular, realistic visual appeal along with durability and low maintenance. This makes them ideal for amenities like putting greens, playgrounds, common areas, and more! Contact us today to learn more or receive a turf quote!