ARTIFICIAL GRASS IN ATLANTA, GA
Low-maintenance Synthetic Lawn Solutions for Homeowners Throughout Atlanta and All of Georgia
Homeowners throughout Atlanta can experience a low-maintenance, environmentally-friendly artificial grass alternative to natural grass thanks to SYNLawn Georgia. Our artificial grass looks and feels just like the real thing, and it comes without any of the tedious upkeep of traditional sod.
Our team of experts work with you to design and install high-quality turf that meets all your needs. Whether you need a clean pet area, somewhere to practice your golf game or just a beautiful space to relax on the weekends, we blend your new artificial grass installation seamlessly with existing landscaping elements to create a truly unique appearance. Don't spend another weekend maintaining your yard. Make the switch to a synthetic lawn and enjoy an effortless, green yard year-round.
Environmentally-Friendly Artificial Turf
When you install artificial grass at your home, you improve more than just your home's aesthetics: you upgrade your entire surroundings. Furthermore, our artificial grass systems are environmentally-friendly, and safe to use around children and pets. Atlanta residents continue to reap massive benefits such as keeping harmful chemicals off their lawn. Even better, our artificial turf does not require toxic weed killers or fertilizers to maintain its lush appearance.
We use high-quality Environfill from USGreentech to support your artificial grass installation. This makes the turf highly durable even after heavy use from children or pets, and it doesn't need to be re-distributed or topped off like other types of infill. Best of all, Envirofill is infused with antimicrobial protection that keeps the surface of your lawn clean and safe to use time and time again.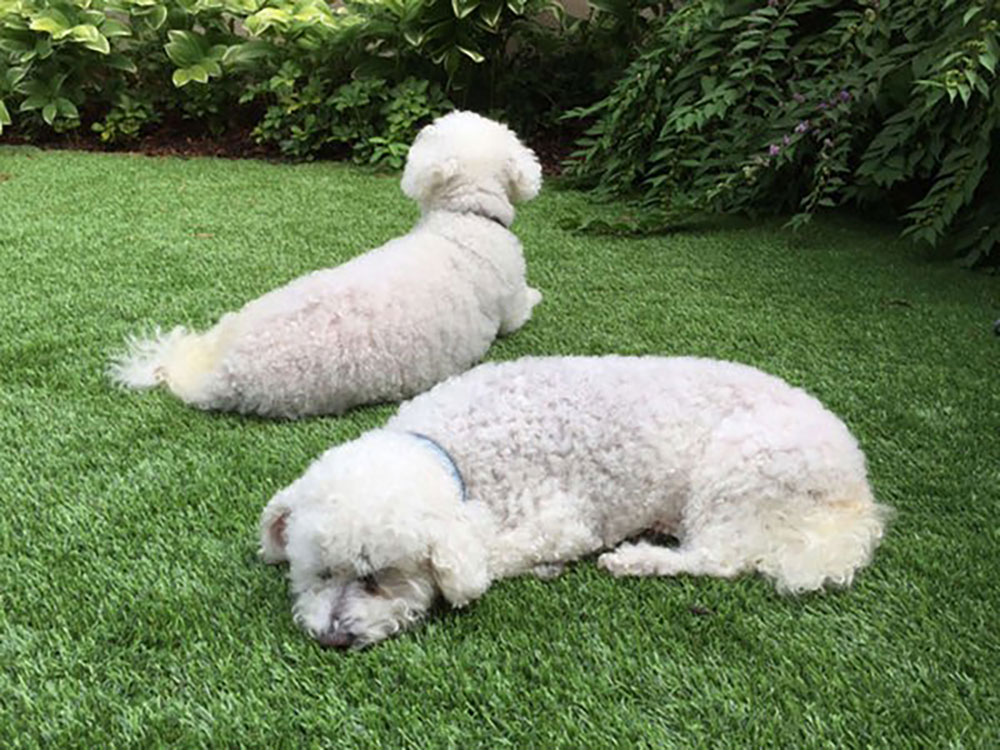 Pet Areas
Pet parents want the very best for their furry friends. SYNLawn Georgia developed an exclusive artificial grass system made specifically for pet areas. No matter the breed, size or age of your pet, they can enjoy the many benefits of our synthetic turf. Our artificial pet grass systems provide a premium drainage feature as well as odor-eliminating infill, so you and your family can enjoy the area as well. We only use materials that are soft enough for sensitive paws, yet tough enough to deter digging.
Save Time & Money with Artificial Grass
Synthetic turf has become more popular throughout Georgia because homeowners appreciate the financial benefits. Residents who have made the switch to artificial grass lawns have experienced a drastic reduction in their monthly water bills.
Synthetic grass eliminates the need for mowing, weeding and fertilizing, which means homeowners spend less time maintaining their lawn, and more time enjoying it. Save time and money when you install our turf in these other areas of your outdoor living space:
Rooftops and patios
Front and back lawns
And much more!
A finely manicured lawn with minimal effort is finally a reality for Atlanta and the greater Georgia region's homeowners. Our experienced team helps make expert recommendations to meet your landscaping needs. Contact us online today for a free consultation!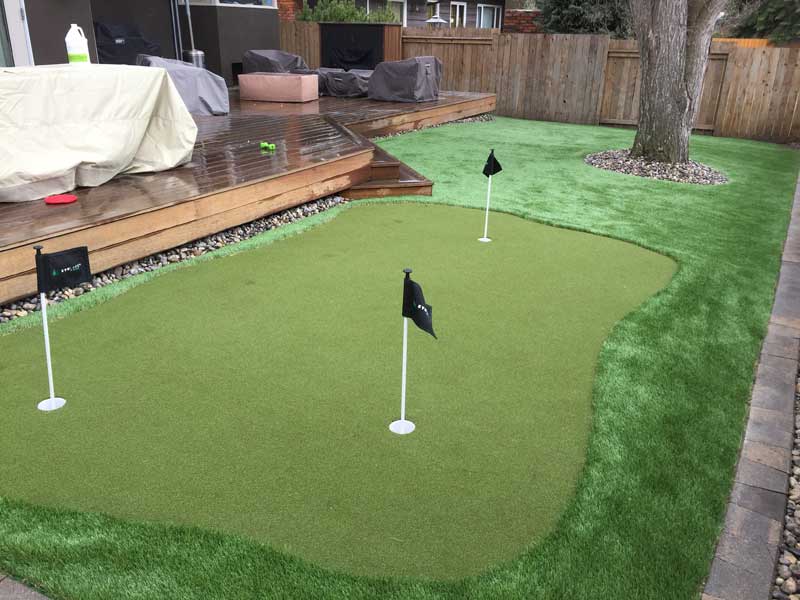 Backyard Putting Greens
If you live in Atlanta and have always wanted access to the game of golf at a moment's notice, then our backyard putting greens are ideal for you. Once installed, you no longer need to go through the hassle of getting in your car and driving to a golf course to get some practice in.
With artificial putting green turf installed in your backyard, you can enjoy golf whenever you want. Not only is this great for getting outdoors more and getting exercise in, but with repeated practice, your putting game is bound to improve.
When it comes to our backyard putting greens, there are many advantages. Here at SYNLawn Georgia, when we make our artificial backyard putting greens, we ensure the quality of our turf matches that of what pros use at events such as PGA tours. Our golf turf is strong, durable, and reduces unwanted movements such as ball wobble.
Also, our golf turf drains water fast, so it's usable quickly even after a major storm with plenty of rain. Last, but not least, our backyard putting greens are a beautiful sight to behold with their radiant evergreen color.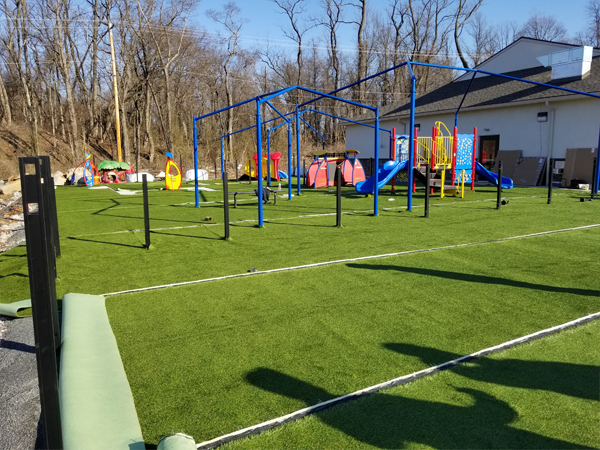 Playground Turf
Artificial playground turf is great keeping kids safe and putting parents at ease. While conventional playground turf has a hard surface that can lead to injury, this is not the case with our synthetic playground grass. Unlike other surfaces made from wood chips, sand, or concrete, our turf is sturdy, stays in place, it is strong yet soft and comfortable for kids. When we create playground turf in our factory, it is constructed for both comfort and safety for children of all ages.
Since our playground turf has extra padding, it provides additional protection to kids in case of falls. The turf is also non-abrasive, so it won't irritate the skin of anyone playing on it. Additionally, we build our playground turf with the hot Atlanta, GA summers in mind. It is UV fade resistant and another neat feature is that our artificial turf is designed to disperse heat so it's able to stay cooler during hot, sunny weather. So while regular grass may become hot on a regular day, our grass stays cool helping to maintain the comfort level of those playing on it.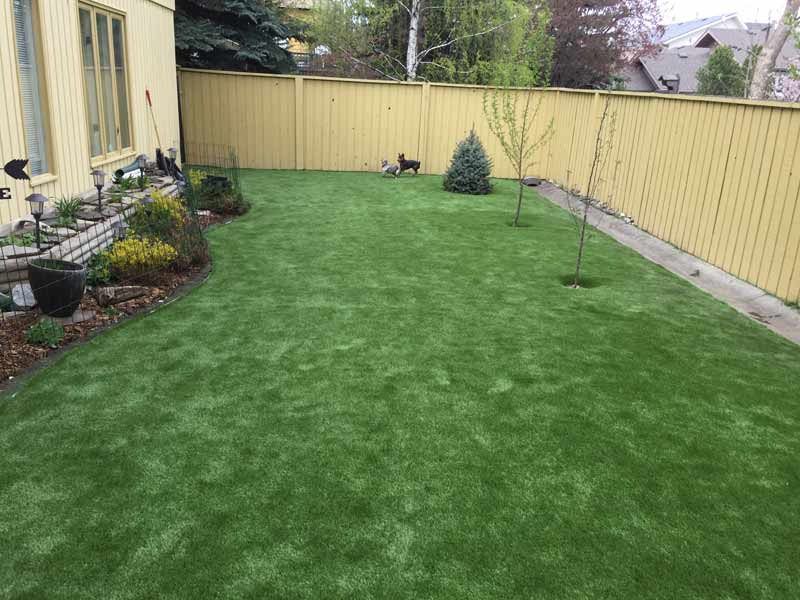 Landscaping Grass
Our artificial grass is perfectly suited for landscaping needs throughout Atlanta, GA. The turf is always the correct length and consistently maintains its eye-catching green color for everyone to appreciate. You never see bare spots or dead brown patches when it comes to our high quality synthetic grass. Because our landscaping grass demands little upkeep, it eliminates a source of stress and chores for the homeowner.
With our landscaping grass, you never have to concern yourself with mowing, watering, fertilizing, seeding, or deweeding. Once installed, the landscaping turf practically takes care of itself with only minimal maintenance required.
Landscaping grass easily impresses friends, neighbors and passersby with its perfect length and color, increasing your home's curb appeal. Since the turf is resistant to UV rays, you won't have to worry about its color fading over time. And even on days where there is inclement weather, our grass shrugs off heavy rain and drains fast, so big unsightly mud puddles won't form on the turf.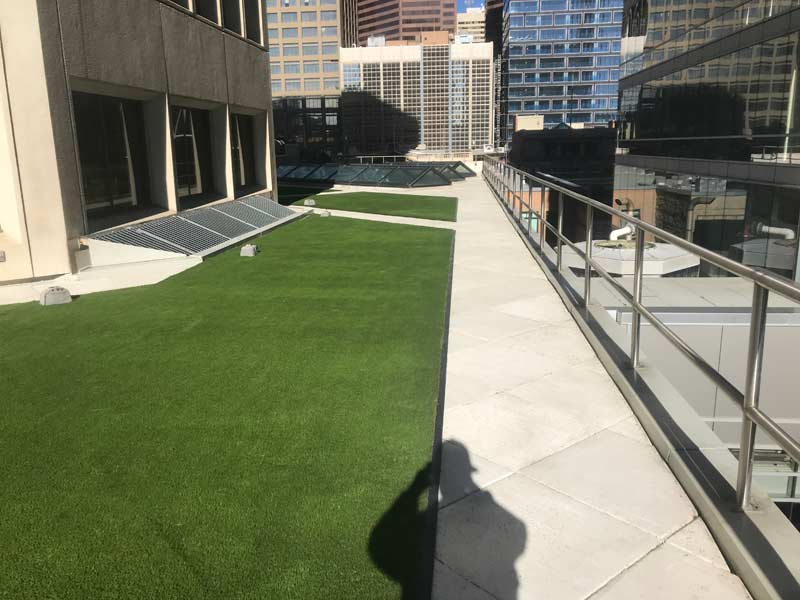 Rooftops and Patios
The artificial grass is amazing for patios and rooftops. Whether you enjoy spending time relaxing alone, or with family and friends, our rooftop and patio turf is made for lounging, enjoyment and fun. It is both comfortable to be on and lovely to look at.
Another great thing about an artificial grass lawn is that insects stay away from it, so you won't be bothered while spending time outdoors relaxing. Since our rooftop synthetic grass and patio turf is artificial, it doesn't attract insects such as fleas and ticks, which prefer regular grass.
With artificial turf, you won't have to concern yourself with chores such as regularly cutting the grass or deweeding it, as none of that is necessary. The last thing you want is to lug a lawn mower up the stairs just to mow your rooftop oasis! With our rooftop synthetic grass lawn and patio turf being so easy to maintain, you'll spend your time relaxing in your favorite chair, rather than thinking about lawn chores.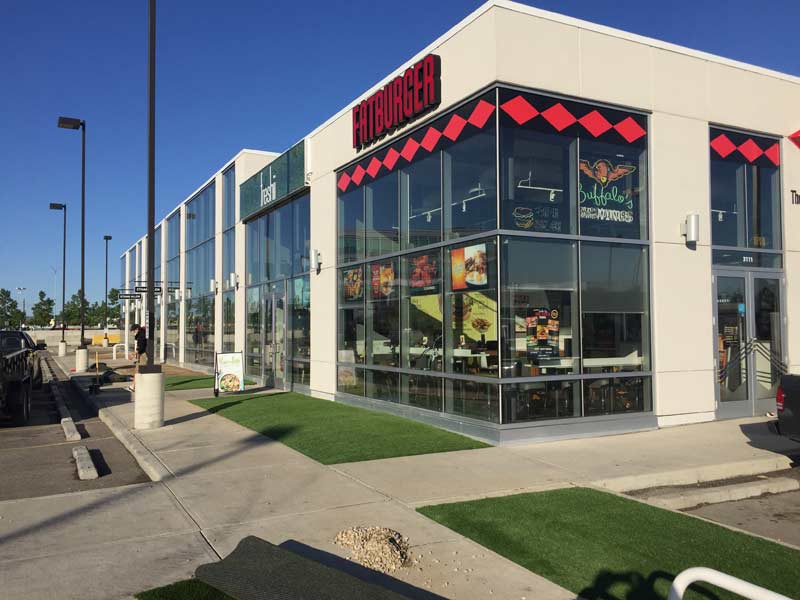 Commercial Turf
People choose to install commercial artificial grass at their businesses for a variety of reasons. Since our synthetic commercial turf is lush, majestic, and green, it easily catches the attention of potential customers walking by. The immaculate look of the turf creates an impression that a business pays attention to the details. The turf always looks like the lawns you see at five star hotels that receive constant maintenance and attention—but thankfully you only need to give a commercial artificial turf lawn a tiny fraction of care and attention.
Commercial artificial turf saves you and your business money over time due it being so low maintenance. Never again enter into expensive landscaping contracts to have your lawn maintained. You'll never need to water your lawn either, which leads to a significantly lower water bill during the hot Atlanta, GA summers. Additionally, you'll save money never needing to add chemicals to your lawn, such as fertilizers, weed killers, or pesticides. Since the turf is so durable and robust, it lasts for many years.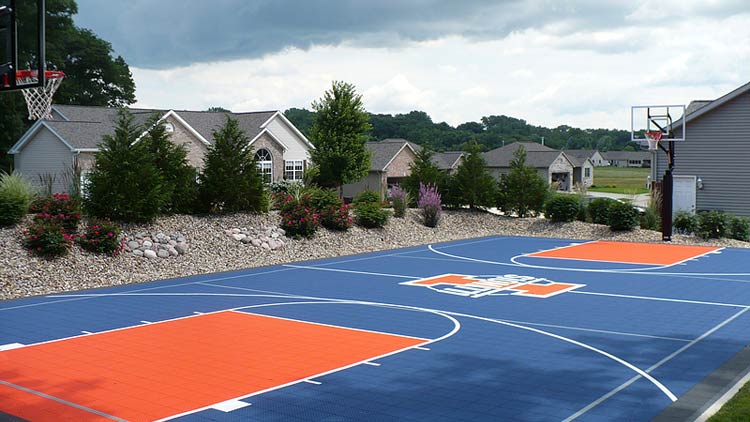 Athletic Turf
Artificial athletic turf is extremely useful for athletes to practice and play on. From tennis to basketball to track, synthetic athletic turf is used for a wide variety of sports. It is durable and withstands wear-and-tear, while also being safe. It is perfectly suited for speed training and agility training.
Synthetic athletic turf is built for strength and robustness, as it easily handles hundreds of people walking and practicing on it day after day. The turf is made to prevent injuries while athletes practice, as it provides shock absorption so joints don't endure as much stress. From intense training, heavy gym equipment, and long workouts, our synthetic sports turf is made to handle it.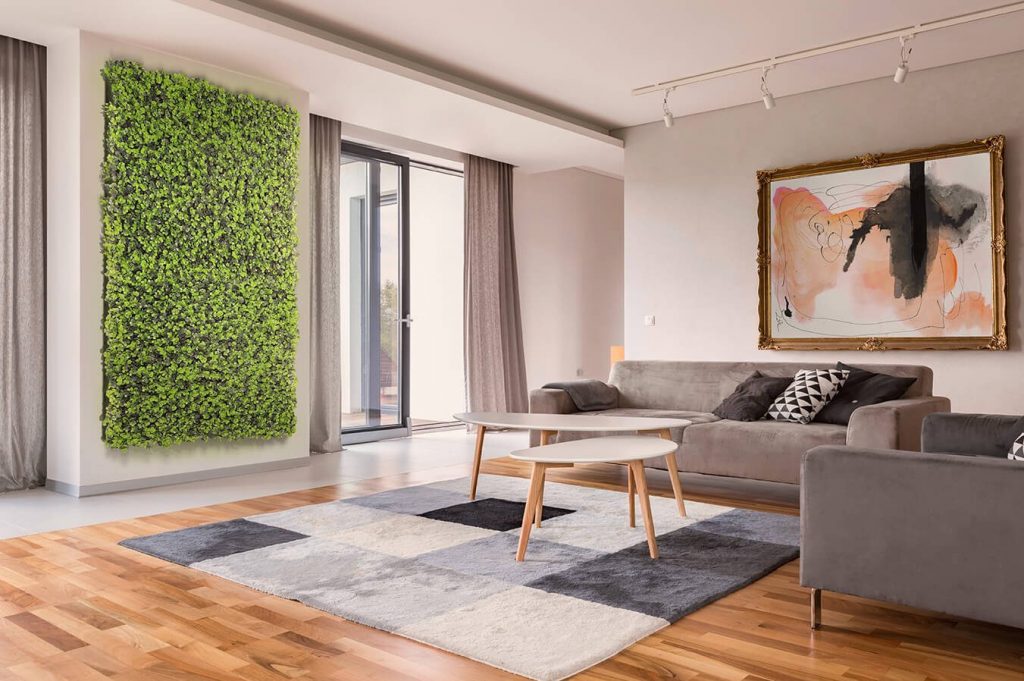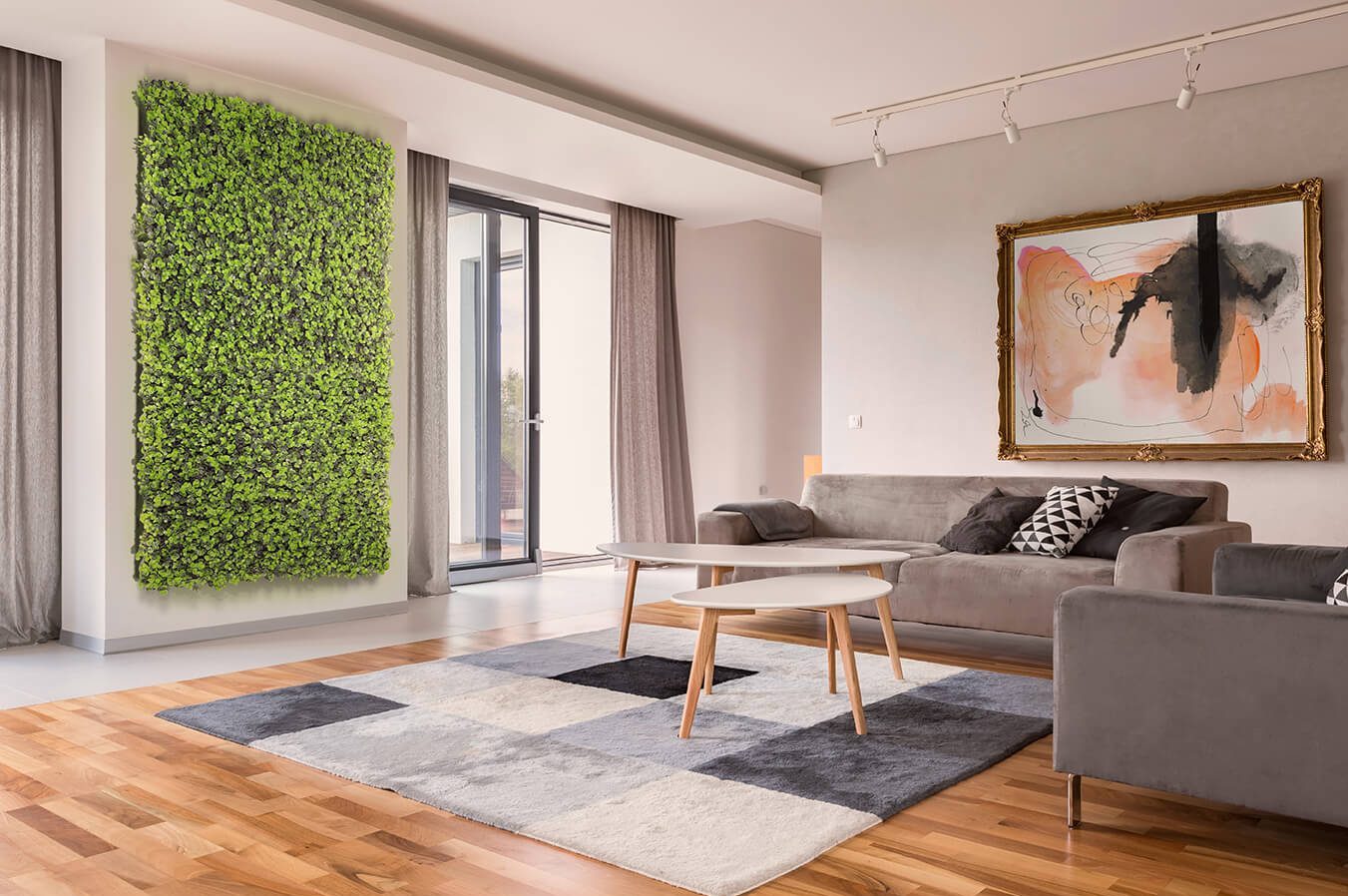 Artificial Green Walls
Artificial green walls are amazing at adding beauty and vibrancy to any space they are in—and we install them both indoors and outdoors. Its realistic look is easily mistaken for the real thing. In addition, it retains its beauty due to its resistance to the effects of UV rays, so even if the synthetic living wall is positioned to be in full sun it stays beautiful year round.

From being added to the exterior of commercial spaces to captivate the attention of passersby; or positioned indoors as a way to liven up the space and spark a conversation, these walls provide a gorgeous backdrop to any location. These walls are extremely low maintenance and don't need regular watering or caretaking to look their best. Since they are artificial, they have no dirt, so you won't have the issue of dirt dislodging itself and nor will it attract nesting insects. With artificial green walls, you get a thing of beauty that comes with little hassle.
Summary Of Benefits You Get From Our Artificial Grass
Always lush, green, & beautiful
Cools itself down during hot sunny days
Very low maintenance
Resists color fading from UV light
Saves you money over time
No more mowing, watering, or fertilizing
Makes a positive first impression
Catches the eyes of passersby & potential customers
Odor resistant
Pet and dog-friendly
Child friendly
Eco-friendly
Highly durable and able to last for many years
Drains water quickly to prevent mud and puddles from forming
Never needs chemicals like fertilizers or pesticides
How Our Team at SYNLawn Georgia Can Help You
Regardless of the artificial turf application you desire, our trained and experienced team can handle it. Whether you're a homeowner that wants a simple putting green in their backyard or a commercial business that wants a large and impressive grass lawn, we do it all. We are not only skilled and experienced in the artificial grass industry as a whole, but also familiar with the Atlanta, GA region and its surroundings.
Schedule A Free Consultation With Us
If you want your very own artificial grass lawn, putting green, playground or more, contact us here and we will provide you with a free consultation and answer any questions you have. We look forward to turning your artificial turf idea into a reality!