Artificial Grass for Luxury Apartment Buildings in Atlanta, GA
Artificial grass for luxury apartments is all the rage in Atlanta, GA, thanks to the professional services of SYNLawn Georgia and we know that building and renovating apartments for high-end tenets can be challenging. In urban jungles like Atlanta, people want the convenience of city living, but not if it means sacrificing green spaces.
It's no fun to wait in traffic just to get a few moments in a park or other natural area. This is where SYNLawn Georgia, with our outstanding artificial landscaping grass, comes in. We work with you to design and create the most beautiful artificial green spaces in your apartment buildings that are low maintenance.
Do you have a concrete area with potential, but you aren't sure what to do with it? Why not make it a space for a recreational area or a putting green? There's no limit to what can be done with our artificial landscaping grass. It's why apartment building renovators and builders hire SYNLawn Georgia for their landscaping needs.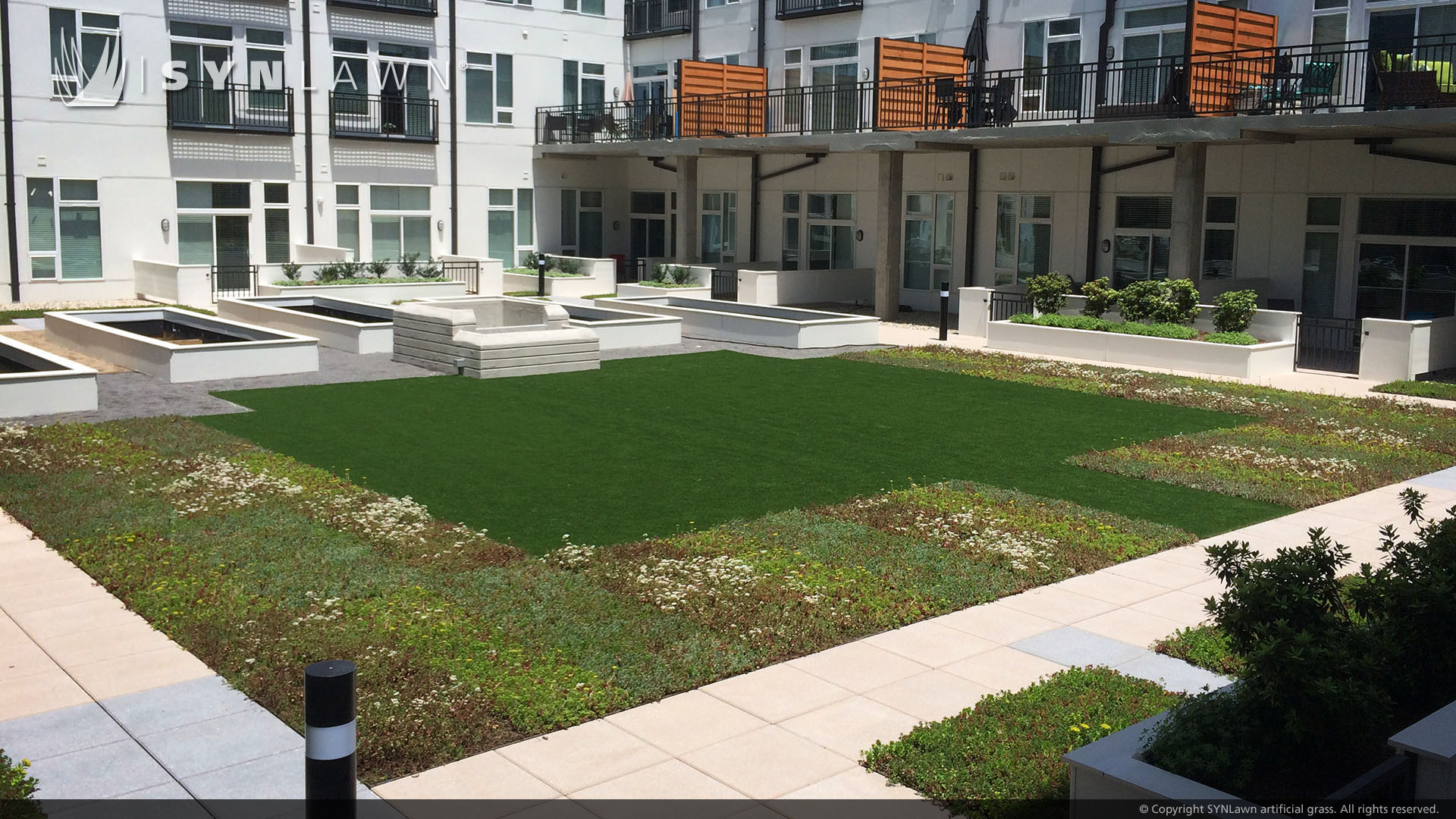 Don't Worry About Concrete Jungles
People want green spaces where they live, but too many apartment buildings are situated in the concrete jungles where greenery is a priceless commodity. There might be nearby parks that your tenets can visit, but it's a pain to walk or drive there.
Why not turn your concrete area into a green space with SYNLawn Georgia. Do you have a pool area surrounded by concrete? We can transform it into a green oasis, complete with lifelike grass. It may be impossible to put a natural lawn down, but nothing is stopping you from artificial grass.
It's not only perfect for your existing tenants, but it's a draw for new ones as well. As a result, the area becomes a selling point of your apartment complex.
Playground Areas For Children
Do you want to attract families with children to your apartment complex? Provide them with a play area for the kids that's safe and secure. Our artificial playground turf is far better than wood chips that fly everywhere or pieces of foam or rubber. Children often get hurt on wood chips when they fall, but our artificial playground turf has an extra layer of padding to lessen the chances of bruising and injury.
Turn that unused concrete area in your apartment complex into a play area for children and attract new tenants. Parents like to watch their kids play in a safe and secure area rather than a public park.
Dog Track For Your Tenets
Pets are part of the family, so many community members want to bring their pets outside for exercise but don't want to walk them in the city's busy streets. Create a dog track with our artificial pet grass. Our grass drains quickly and it stays lush all year long.
Pets get the exercise they need without pet parents having to spend time driving to dog parks or walking them in the busy streets of the city. Having a dog park is a massive selling point for pet parents looking to settle into a new place.
Year-Round Beauty and No Maintenance
If you were to have a natural grass green area, it would require constant upkeep throughout the year to keep it green. You'd spend far too much money watering the grass and applying chemicals to keep it green.
Artificial landscaping grass has none of the maintenance of traditional grass. Once installed, it stays lush and green no matter how hot it gets in the Georgia sun. If you want something low maintenance that tenants enjoy, then consider artificial grass by SYNLawn Georgia.

Choose SYNLawn Georgia for Your Luxury Apartments
People want more than just a nice luxury apartment. They expect amenities that enhance their lifestyle. Choose SYNLawn Georgia, we will create a green space that looks real and draws families and professionals to your building.
Give them a place that simulates nature within the walls of your concrete building. We'll help you create the green area your tenets dream of in the city.  Contact us today to start your artificial grass project.