Artificial Grass Bocce Ball Courts in Georgia
For Georgians looking for a phenomenal entertainment addition to your home, park, or business, SYNLawn Georgia has an innovative option that we think you will love: installing an artificial grass bocce ball court. Bocce ball is a fast-growing but casual ball sport that people of all ages can enjoy. Here at SYNLawn Georgia, we have the ideal artificial grass to create your own customized bocce ball court that will make your commercial or residential entertainment space a hit! We also have the expertise to design and professionally install your bocce ball court, helping to ensure it that is set up for years of play.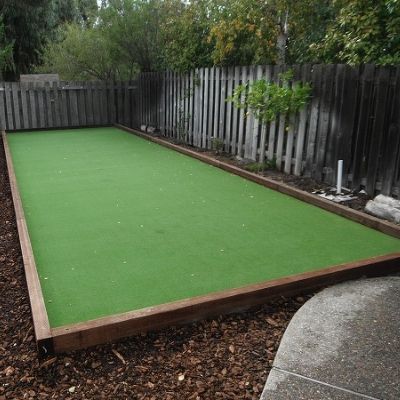 Why Bocce Ball?
Bocce ball is an incredibly fun and casual yard game for families and friends, and it is so easy to play. Bocce ball is delightful for up to 8 players, and it is also a well-known stress reliever! Bocce ball is one of the most popular casual sports in the world, and there are over 30 million players in the US alone.
Bocce ball has a fascinating background and even dates back to at least 5,200 BC. It was first played in Egypt but was later turned into the modernized version of today in Italy. It is similar to other games played in many ancient civilizations. Many interesting people from history have enjoyed a game or two of bocce ball, such as Galileo, Queen Elizabeth, Hippocrates, and even Henry VIII. Imagine that!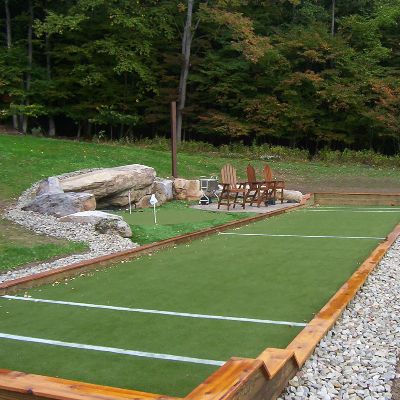 Ultimate Customization
At SYNLawn Georgia, our synthetic bocce ball courts offer numerous options for customization. With our team's expertise, you can customize your court's placement, size, and style. You even can add some flair to your borders with concrete curbing or specialty wood. Our experts are always excited to bring your space to life, especially with an artificial grass bocce ball court.
Not sure if you have enough space? Our team can help you pick the right area for your bocce ball court and work out appropriate measurements. A regulation-size bocce ball court may not be an option if space is limited. However, you can easily go down to a residential size court that will afford players plenty of room to enjoy themselves.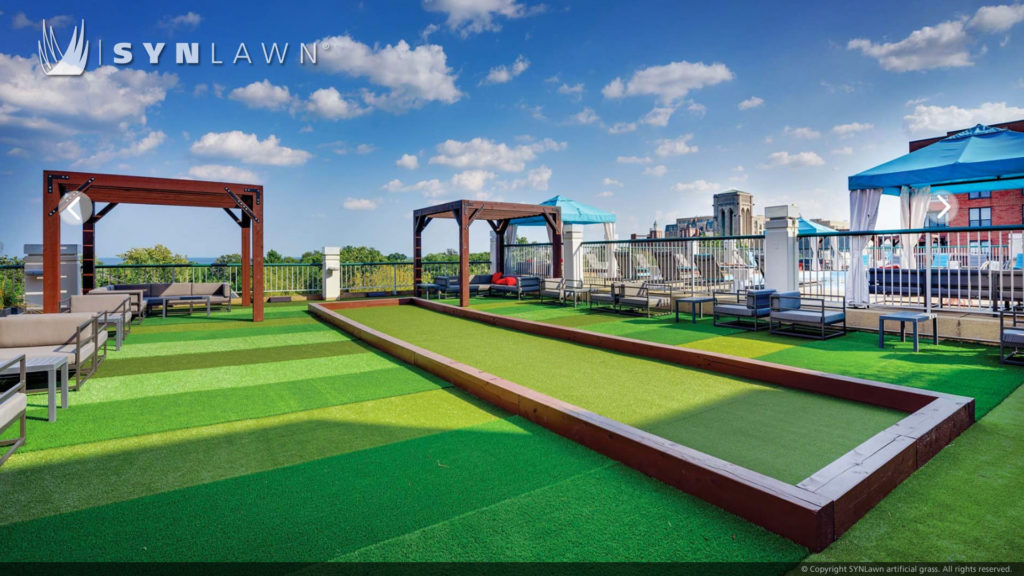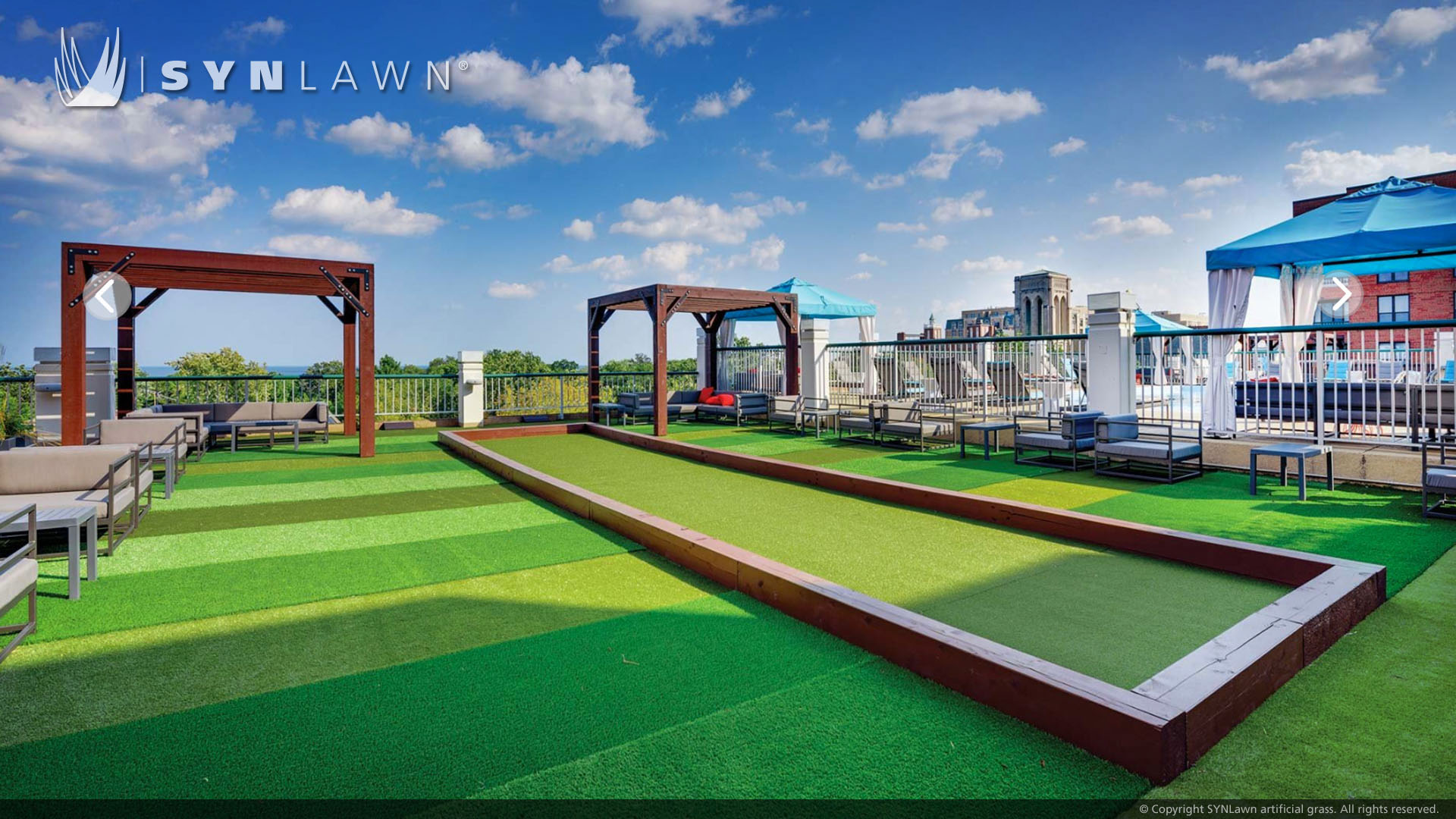 SYNPro Bocce Systems
At SYNLawn Georgia, we develop our products with our customers' needs in mind. Helping you create a space for athletics and other purposes is integral to our business. As a result, we have highly advanced artificial grass products for your favorite sports and games, including bocce ball.
Fortunately, we have created an artificial grass system specifically for use as a bocce ball court. SYNLawn's SYNPro Bocce provides an amazingly smooth ball roll with minimal bounce. Unlike some older styles of artificial bocce ball courts, SYNLawn Georgia provides a synthetic green space that will last for years with little maintenance required.
Benefits of SYNPro Bocce include:
ADA Compliant Surface
ASTM Certified
IPEMA Certified
CAD Ready Documents Available
Generous Limited Lifetime Warranty
SYNPro Bocce is an ideal choice for your new bocce ball court. Whether for a private residence, a condominium complex, a hotel, a senior center, or anything in between, an artificial grass bocce ball court is an entertainment feature that will provide relaxation and fun for years to come and may even boost the value of your property. If you have any concerns about drainage, we have that covered. SYNLawn Georgia can provide you with our EnviroLoc+ plant-based backing that quickly drains water. Our SYNPro Bocce also has UV protection to keep your court looking sharp year after year.
Get a Free Consultation Today
Artificial grass bocce ball courts from SYNLawn Georgia can be a fun addition to any residential or commercial property in Georgia. By working with us, our customers receive top-notch service along with expertly crafted and customizable artificial bocce ball courts. Contact us today to learn more or schedule a free consultation to discuss the bocce ball court of your dreams!