Artificial Grass in Warner Robins, Georgia
SYNLawn Georgia is dedicated to helping you live a stress-free lifestyle; by installing a beautifully low-maintenance and hassle-free artificial grass lawn. We are expert designers and installers of synthetic artificial turf for both residential and commercial use for the beautiful city of Warner Robins, Georgia.
SYNLawn Georgia is dedicated to helping you live a stress-free lifestyle; by installing a beautifully low-maintenance and hassle-free artificial grass lawn. We are expert designers and installers of synthetic artificial turf for both residential and commercial use for the beautiful city of Warner Robins, Georgia.
Most notably, our fair city of Warner Robins, GA, is known for being the home of the planes, specifically because of its historic aviation museum. In keeping with our beautiful traditions, SYNLawn Georgia prides itself on installing beautifully classic-style artificial grass lawns that are so green, full, and lush that they are easily mistaken for the real thing. Bring a touch of class to your business or home with a lawn that always looks freshly cut and well cared for, no matter what the weather is like.
Our grass is known for its low maintenance and hassle-free reliability, saving you the time, effort, and money that comes with traditional sod lawn care. Our artificial grass turf out-performs the real thing by being durable, long-lasting, and always green. With varied shades of green added to enhance the look of its synthetic fibers, along with different blade lengths to simulate a close real feel and look of traditional grass. Yet, with synthetic lawn turf, there is no watering or seeding required. Same goes for all of our synthetic grass solutions: from pet turf or golf course grass and our protective playground turf. Check out our gallery for inspiration for your artificial turf installation.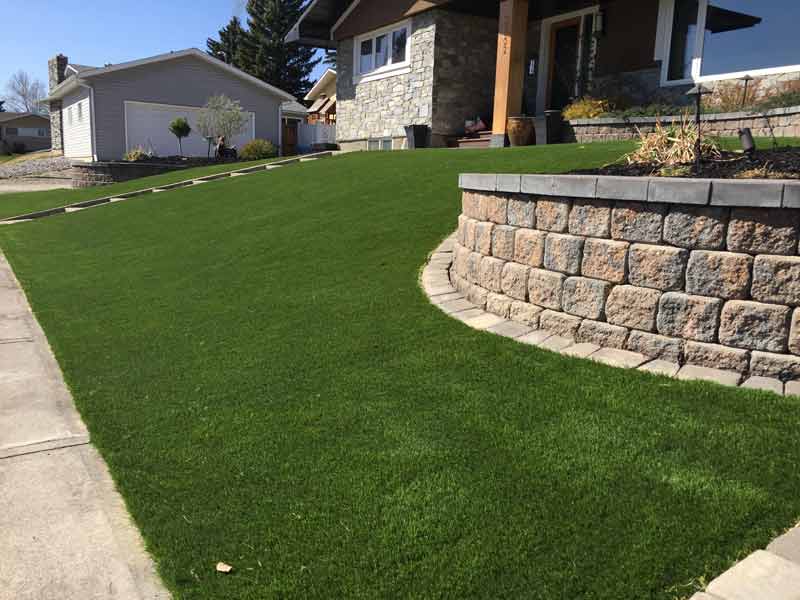 Ways to Save with Artificial Grass Lawns in Warner Robins, GA
Synthetic grass can save on the local ecosystems of Warner Robins, GA, and the neighboring habitats. By reducing the environmental load of toxic lawn chemicals, fertilizers, and fossil fuel usage to power lawn equipment.
Synthetic turf saves you from having to water your lawn twice a day for the long life of your new artificial grass lawn. In addition, artificial grass saves thousands of gallons of water every year compared to natural grass.
Using synthetic grass can save you countless hours of time that you would otherwise spend on maintenance. Because of its long-lasting and durable nature, artificial grass lawns require no time to be spent toiling in the yard trying to coax your lawn to a healthy color. Instead, artificial grass lawns and landscaping stays a healthy and vibrant, green year round.
By saving you thousands of dollars every year that you would normally spend on maintenance, watering, and lawn equipment. Synthetic grass is an investment that lasts for many years to come.
Overall an artificial grass lawn installation is a wise investment, saving you time and effort that you can now put towards enjoying your lawn.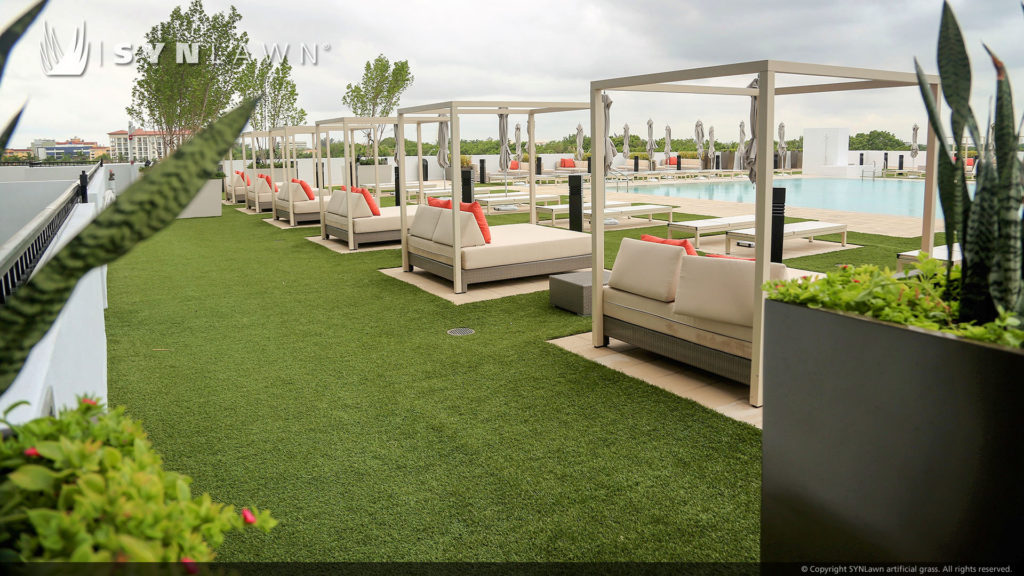 Expertly Designed & Installed Artificial Grass Turf
Our expert design team and professional installation crew will help you achieve the ultimate in both design and functionality of your artificial grass lawn. We pride ourselves on keeping the whole process low stress and hassle-free. Working to give you a great client experience along with the best artificial grass in the state of Georgia.
Eco Friendly, Child Friendly, & Pet Friendly
SYNLawn Georgia's synthetic grass is eco-friendly by being 100% recyclable, saving on water, and by omitting the use of harmful substances such as fertilizers, weed, and pest control chemicals from making their way into the groundwater.
Our playground turf is exceptional due to its protective nature with its fortified padding, which cushions impact falls by up to 10 feet, thereby helping to prevent serious injury. As a result, our turf provides a much safer landing spot during their playground adventures.
Our dog turf and pet grass are safe for pets, preventing digging and chewing while providing them a safe play area. And our pet turf is quick draining and easy to clean, with built-in odor control. In addition, our artificial pet grass has built-in heat-blocking technology. So even if the artificial pet lawn is exposed to full sun, it does a remarkable job at disbursing heat, keeping the synthetic pet lawn cooler and comfortable for your pets to lay and play on.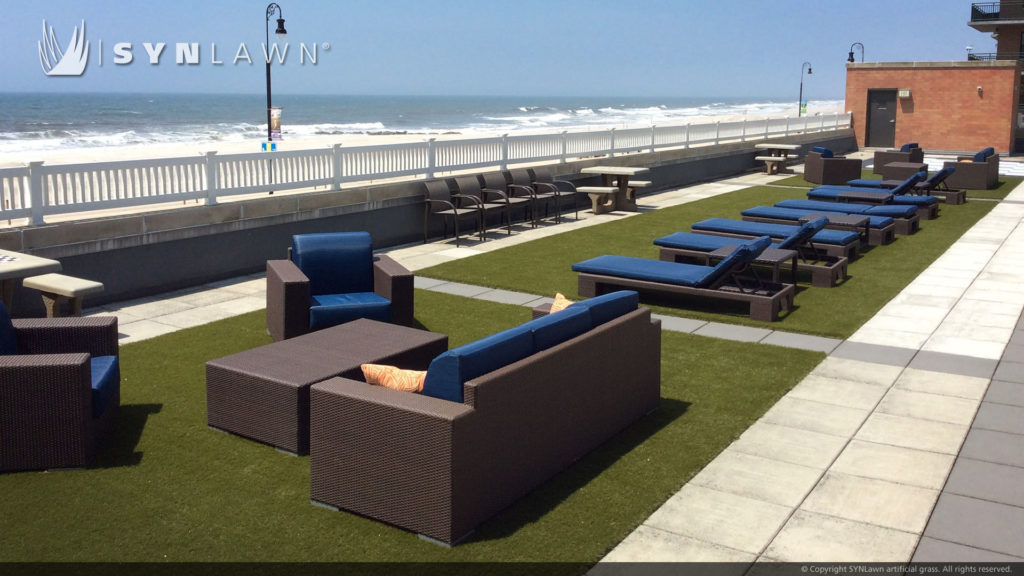 SYNLawn Georgia
At SYNLawn Georgia, our artificial grass solutions can be used for everything from lawns to sports turf, or golf grass and putting greens, or for athletic courts and sports fields, and much more. Some of our athletic courts and sport solutions include our exceptional line of sports products such as our speed turf, SYNcourt system turf, and track turf.
SYNLawn Georgia's artificial grass solutions makes a great addition to schools, colleges, and universities from our playground turf; or the more advanced installations for the older children and young adults such as football fields as well as other athletic areas for sports of all kinds such as soccer, track, and field, baseball and golf.
Overall our synthetic grass and sports turf are great for sports of all kinds and are easy to maintain; while saving you time and money. Our SYNcourt system gives you a dual option for both basketball and tennis sports for quality play with interlocking tiles. Our Track turf is great for track and field athletic sports and is sturdy and durable to stress. Finally, speed turf is our top of the line most durable grass that can absorb heavy amounts of stress for even your most demanding team workout.
Commercial Synthetic Landscaping Grass & Artificial Turf
We make luxurious commercial property artificial grass that will complement any and all buildings. You can even install indoor putting greens in the office building if that best suits your needs. Our expert team will help you design the ultimate in landscaping and artificial grass lawns or putting greens to enhance the property and make an enjoyable space for your prospects, clients, and employees to enjoy.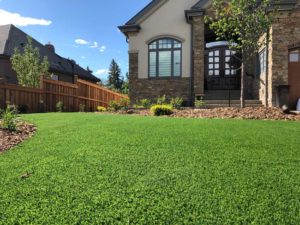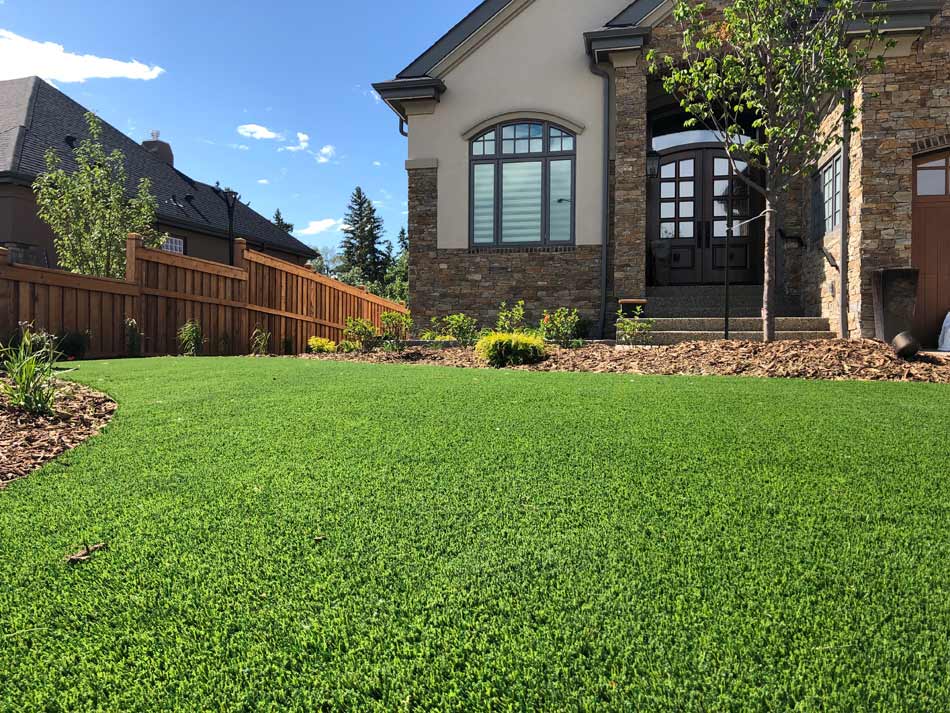 Free Consultation
Contact us today for your free consultation; our team is professional, courteous, and friendly, and we are looking forward to working with you! We care about you as our customer and pride ourselves on providing exceptional quality artificial grass solutions to homeowners and business owners in and around beautiful Warner Robins, GA.
Our synthetic grass should be your first pick, as we always deliver high-quality, convenient and safe artificial grass solutions.