Artificial Grass in Johns Creek, Georgia
High-quality artificial grass and synthetic turf from SYNLawn Georgia are available for installation in Johns Creek, GA. Residential homes and commercial businesses in the area can both benefit from our wide variety of synthetic grass products. Our many artificial turf types provide numerous advantages over traditional grass and can be specialized to address different desires and needs, giving home and business owners consistently beautiful and cost-effective indoor or outdoor green spaces.
Why Choose SYNLawn Georgia
At SYNLawn Georgia, we offer exceptional artificial turf products as well as expertise in turf design and installation. Our high-quality artificial grass and synthetic turf products are made in the United States and offer our clients long-term beauty and durability. Our synthetic grass is also ultra-realistic, so it looks and feels just like standard grass. By working with our team of professional artificial turf installers, you can be better assured that our first-rate synthetic grass will be installed properly. As a result, it will not only look stunning but last longer, as it will be unlikely to develop rips, tears, divots, or other issues.
Advantages of Artificial Grass
Artificial grass from SYNLawn Georgia is made from high-quality synthetic materials right here in the United States. This makes our artificial turf among the best in the industry, which means that it can offer our clients in Johns Creek, Georgia considerable advantages, including:
Resilience
Often, traditional grass in Georgia is subjected to several kinds of wear and tear. This not only includes the wear and tear from lawn games and activities but also the pressure of foot traffic and the local weather. These factors can quickly and easily affect standard grass, leaving it dry, patchy, riddled with holes, or even dead. Fortunately though, our artificial grass is resilient to many kinds of wear and tear, including lawn games and activities, foot traffic, and the weather. Its synthetic nature allows it to stand up to these factors and helps ensure its good looks throughout its long life.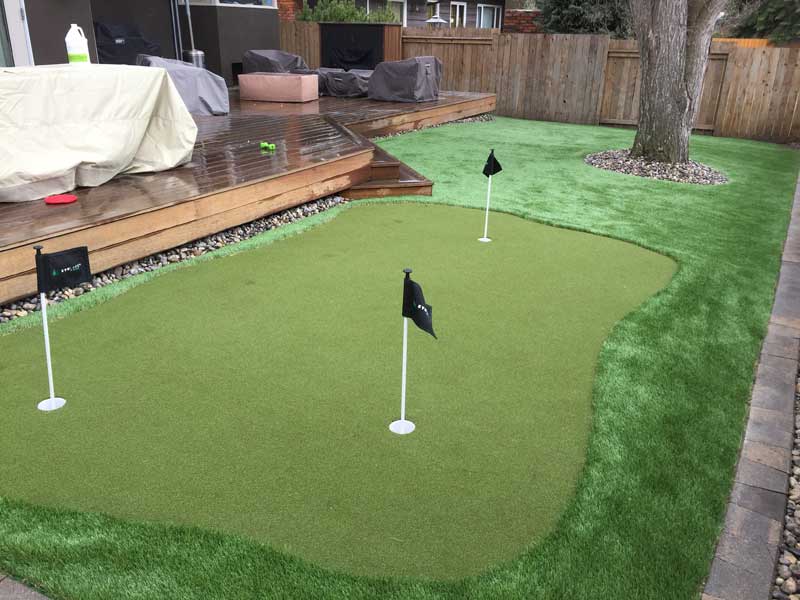 Year-Round Beauty
A grass lawn is one of the most aesthetically pleasing parts of any residential or commercial property. For many homes and businesses, it is one of the first things guests, neighbors, customers, and others will see, which makes it important for making a good first impression. Sadly, traditional grass can be unpredictable and suddenly turn brown and even develop patches and holes. These unexpected changes in appearance can make for a less than ideal first impression. Fortunately, artificial grass is available to help!
Our American-made synthetic turf is evergreen. From the day it is installed, it will retain its lush, green, and manicured appearance. In doing so, it will always be prepared to help your home or business make the right first impression throughout its long life!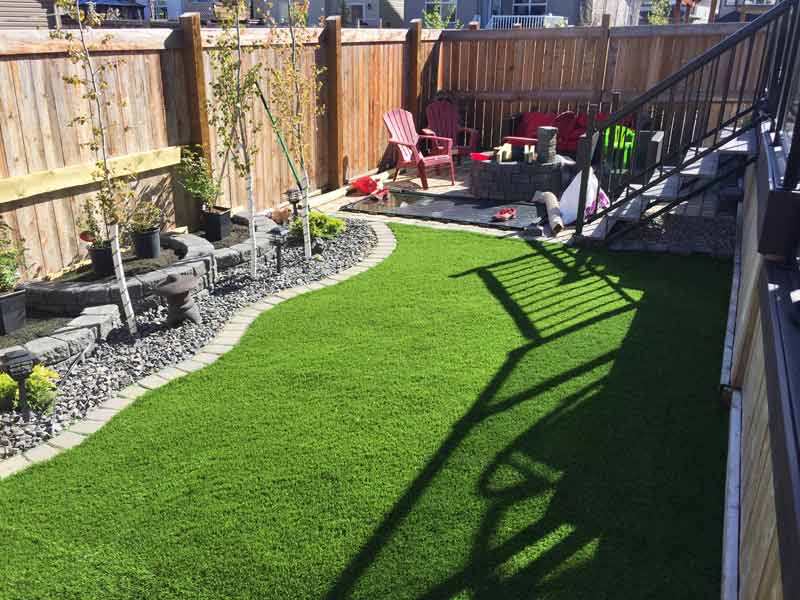 Less Maintenance
Not only is regular grass unpredictable, but it also requires hours of maintenance every month, which can add up to days over the course of a year. Activities like watering, mowing, de-weeding, and more are time-consuming and can leave your wallet feeling lighter. Instead, our high-quality synthetic turf requires little maintenance throughout its life. All it really needs is an occasional cleaning, which can easily be accomplished by washing it down with a hose. Plus, since our turf is quick-draining, it will not leave any puddles behind! This makes our artificial grass a far more cost-effective and time-saving form of outdoor landscaping.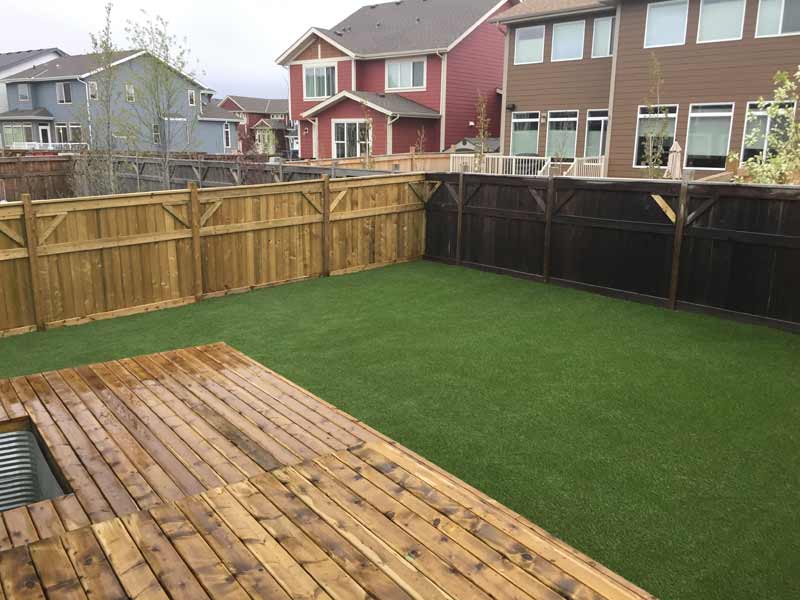 And More!
At SYNLawn Georgia, our artificial grass is beautiful year-round, low maintenance, resilient, and so much more! Other benefits of installing our synthetic turf include:
No grass allergens
Water conservation
Fewer insects and rodents nesting in your lawn
Easy to clean landscaping
No need to use harsh chemicals or fertilizers
Specialized Applications for Synthetic Turf
Artificial grass and synthetic turf from SYNLawn Georgia can be used in various residential and commercial settings in Johns Creek, GA for a number of reasons. We supply and install specialized turf to help suit our clients' unique needs. Our many different types of artificial turf include:
No matter which specialized artificial turf product you choose to install, it can help fit your unique needs while looking stunning! Check out our synthetic grass gallery to see for yourself!
Request a Free Design Consultation Today!
At SYNLawn Georgia, we provide our clients in Johns Creek, Georgia with high-quality artificial grass to help create comfortable and inviting green spaces for residential and commercial purposes. Our first-rate synthetic turf is incredibly realistic and contributes greater aesthetic appeal to whatever property it is installed on. It is also highly resilient to wear and tear and requires less maintenance than traditional grass. If you have any special needs for artificial turf, we offer numerous specialized products to help meet them!
Contact us today to learn more about our artificial grass products or request a free design consultation!