Playground Turf in Georgia
Keeping Children Safer with Artificial Playground Turf in Atlanta, Augusta, Columbus and surrounding Atlanta cities
At SYNLawn Georgia, we understand how important child safety is, and that is why we offer SYNLawn children's playground artificial turf. Even while under careful supervision, children on the playground can move quickly during play, which sometimes lead them to trip and fall. So we are proud to offer an artificial turf solution that helps lower the risk of serious injuries. We have worked hard to create a surface to soften the impact of a fall, so children land a little easier. Therefore, lessening the risk of serious injuries while children are at play.
We offer installations at commercial locations or residential. Our playground turf is perfect for a public park, school, or even in the backyard at your home. With the added assurance of our cushioning playground turf, your playground will provide a safer play area for children that they can use without worry, granting you peace of mind that if they do fall the impact will be lessened with our synthetic playground turf.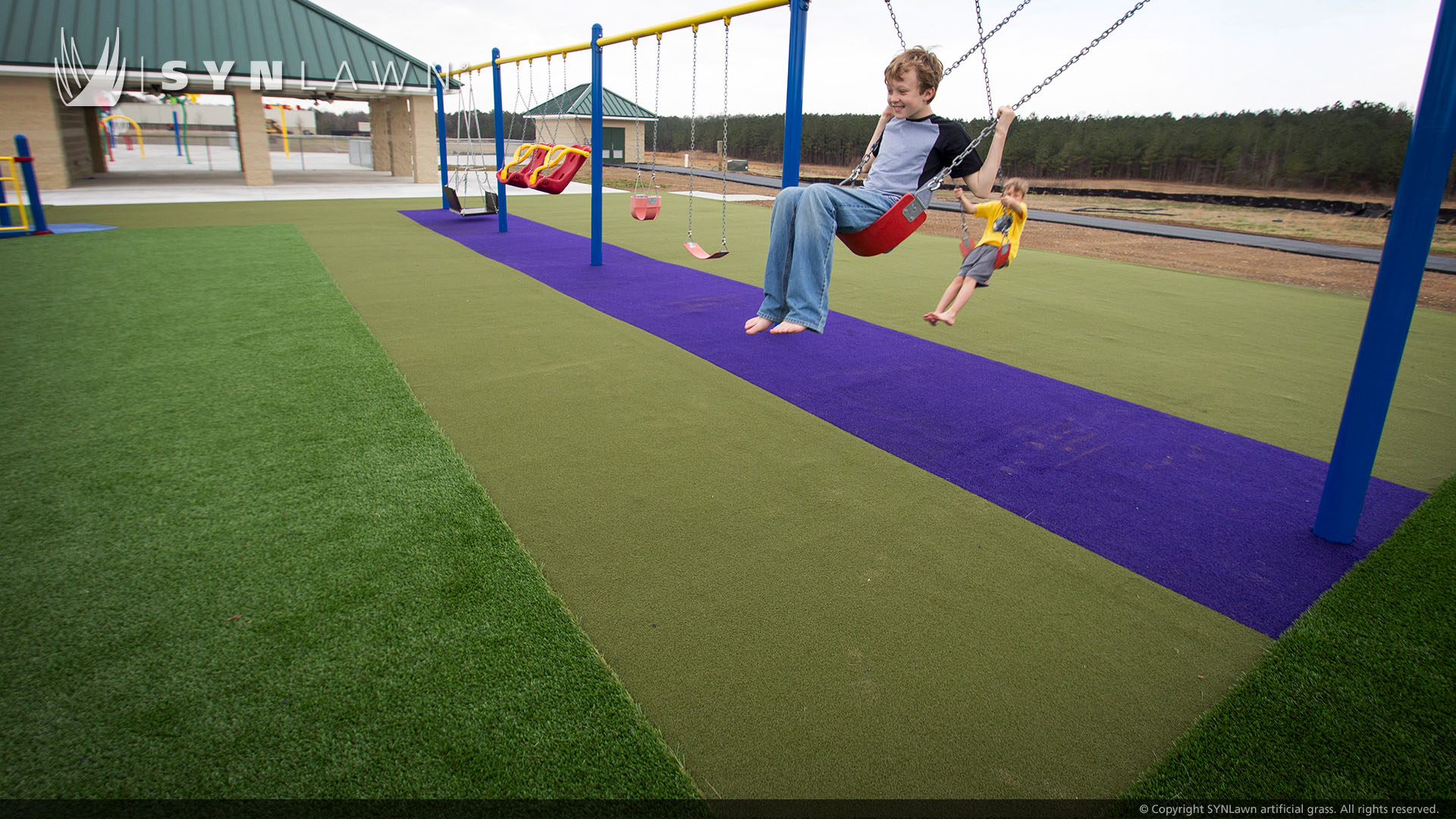 Enhanced Fall Protection
SYNLawn Georgia offers top-of-the-line artificial playground grass to help protect children from injury and give parents greater peace of mind. Our synthetic turf provides one of the safest playground surfaces for children, so they can be free to play and bring their imaginations to life.
At SYNLawn Georgia, your child's safety is our top priority. Traditional play area surfaces like gravel or wood chips are hard and provide almost no protection from falls. Our artificial grass is ASTM HIC-tested and certified by the IPEMA (International Play Equipment Manufacturers Association) for falls from up to ten feet.
The soft layer of padding that we install underneath our playground turf is durable enough to stay in place but gentle enough to provide support when a fall takes place. Where other playground alternatives can easily clump together, thin out, become displaced, or even be removed from the playground entirely, that is not the case with our SYNLawn Georgia's playground turf solution!
Customized Synthetic Playground Turf and Expert Installation
We offer customized playground turf and expert installation to specifically fit your playground space. Doing so takes further safety precautions and steps to mitigate uneven surfaces while lessening trip zones to further ensure that children playing on the playground have a safer place to play. Plus, with our SYNLawn Georgia playground turf installed, it also further ensures they have a safer place to land during their next daring adventure.
SYNLawn Reduces Allergen Exposure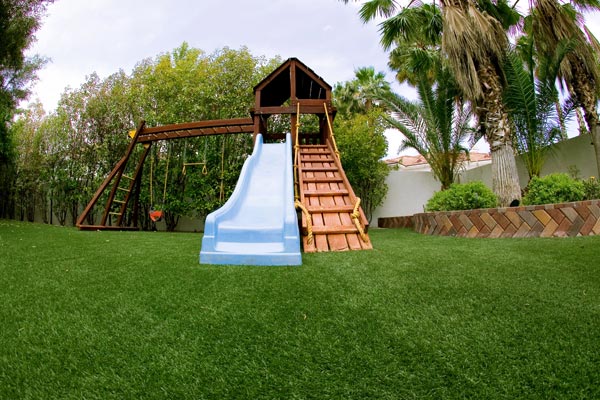 Synthetic playground turf doesn't have the known allergen issues like common sod does. So your little ones won't have to play in weeds, seeds, dust, pollen or deal with other irritants or biting insects as found in traditional lawns.
Durable, hypoallergenic Synthetic Playground Turf
SYNLawn products are durable and are hypoallergenic, which makes it suitable for all children – even for those little ones with sensitive skin. Additionally, our synthetic playground turf in Atlanta offers many benefits, including:
Hypoallergenic nylon fibers
Optimal drainage rate of 30 inches per hour
HeatBlock™ technology for temperature controlled surfaces
CSA-approved fall attenuation
Easy cleaning and maintenance
Less Dirt & Debris Tracking Indoors
Our artificial turf playground surfaces also help prevent gravel from getting trapped in the treads of your child's shoes – where it is then tracked indoors. With an artificial playground turf, they won't be playing in the mud or dirt, keeping them cleaner overall. Also, parents will also love that they no longer have to worry about grass stains in clothes!
Encourage your kids to go outside and play hard. They deserve it, and you deserve to know they're protected.
Don't wait to install one of the safest play area surfaces in the industry. We install artificial grass playground systems at commercial facilities and residential properties throughout Atlanta, GA and surrounding cities.
To Receive a Free Design Consultation, Contact SYNLawn Georgia Today!
Instead of fussing around mowing the lawn on a weekend the artificial turf from SYNLawn Georgia is virtually maintenance free, including our playground turf for properties in Atlanta, Georgia.
What We Do:
Architects
Playgrounds
Landscaping
Wholesale