Atlanta, Georgia Backyard Putting Greens
If you live in the State of Georgia, there are numerous inherent reasons why you should install backyard putting greens. Firstly, a custom golf greens turf in your private backyard affords you the convenience of being able to practice at your leisure. No more commute times to distant golf courses around Atlanta, GA. Additionally, backyard putting greens enhance your property's visual appeal and create a beautiful space for outdoor gatherings with family, friends, and business associates. If you're looking for professionally installed putting greens in your own backyard, you can trust SYNLawn not only for your initial investment but for your aftercare support as well.
Let's why customers are raving about SYNLawn's backyard putting greens in Georgia:
Enhance your health and fitness curriculum
Besides enjoying the convenience of practicing at your own leisure, and improving your golfing skills, having a backyard putting greens can greatly boost your health and fitness regime.  Golfing is a terrific alternative to gym workouts as it works out most of your body's muscles simultaneously. If you're looking to lose those extra pounds while keeping your bones strong, try SYNLawn's backyard putting greens. Additionally, good health also translates into less stress which improves your overall quality of life.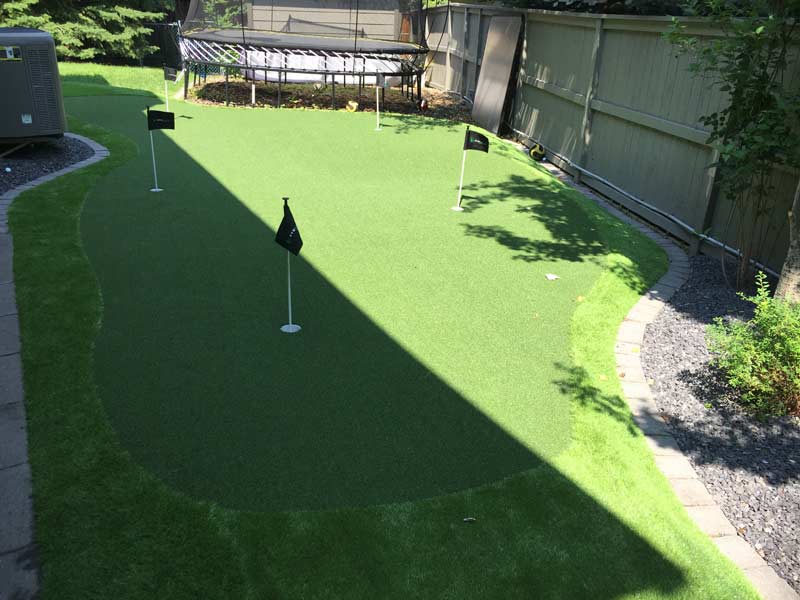 Improve your quality of life with at-home golfing
Golf is an intergenerational sport. Anyone can participate regardless of their age. Because of its socially inclusive nature, it is one of the best ways to socialize with friends, family, work colleagues, and business associates. Need to strengthen your social bonds? How about a game in your backyard putting green? SYNLawn can make it happen. 
Luxurious Appeal
We all know that immaculately manicured lawns can significantly enhance a property's visual appeal. But synthetic grass goes even further.  You can upgrade your home's social status with backyard putting greens that never wither, or fade all year long. Unlike natural grass which needs to be nurtured constantly to maintain its texture, synthetic turf needs little to no maintenance. No need to water the grass, or trim the weeds or use pesticides and fertilizers. Artificial turf constantly radiates a lush green look regardless of use or the season of the year.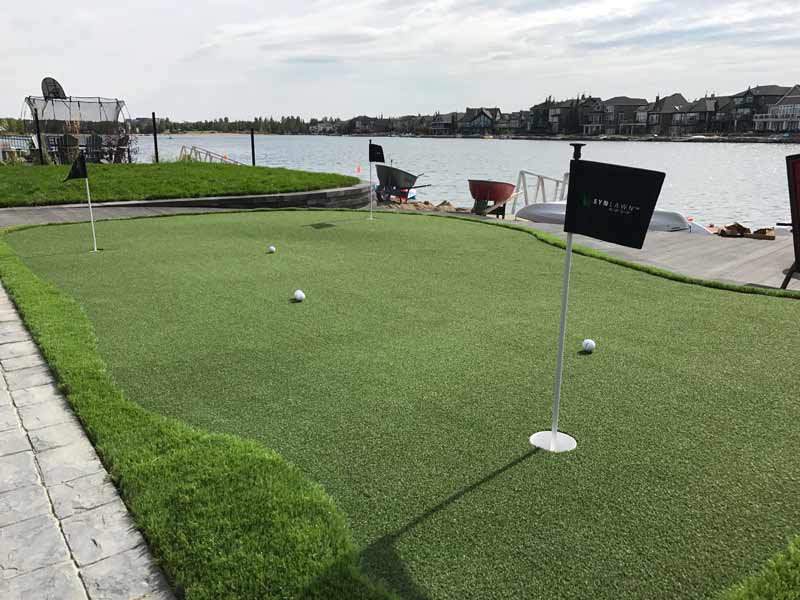 Here's what to expect from SYLNLawn's Synthetic Golf Greens
Low Maintenance
A significant feature of our synthetic golf grass is how low maintenance it is. No need to bother with expensive and time-consuming tasks such as using gardening equipment on it or watering it. Instead, you can use your time in more meaningful and productive endeavors.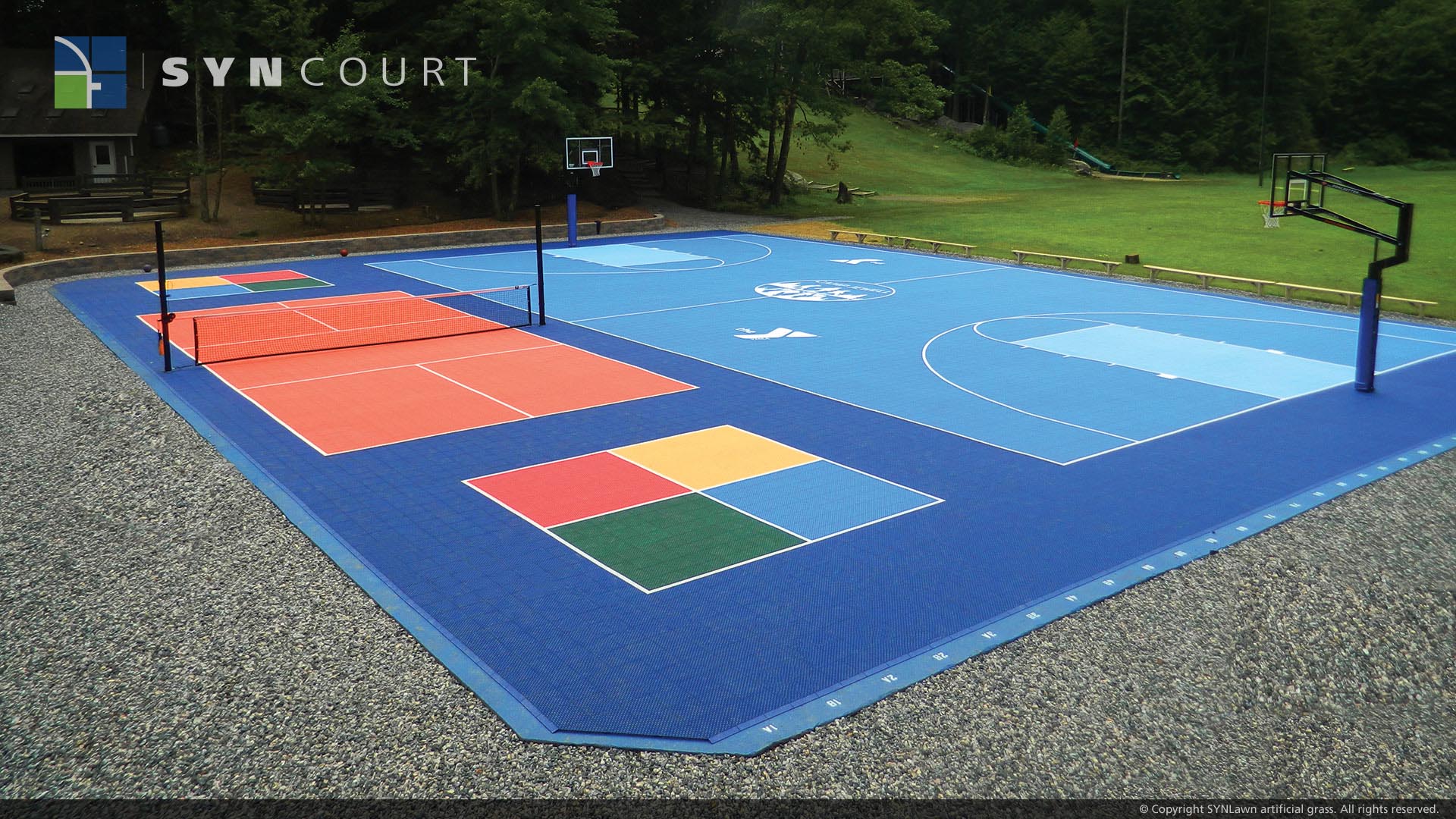 Durability
Due to our artificial grass being made to the highest standards, it is exceptionally durable and strong. It can withstand just about anything that would damage regular grass, including bad weather, people repeatedly walking over it, dogs digging into the ground, and more.
Long-lasting
Our synthetic grass is so well constructed that customers can expect it to last approximately 15 years. This is a huge return on investment. Customers get their true money's worth plus much more. 
Water conservation
During long and hot summer days in Georgia, normal grass can demand a ton of water. In this day and age when water is scarce, this is a wasteful strategy. Synthetic golf grass does not need to be watered. 
Quick Draining
Our synthetic golf grass is manufactured in such a way that it drains water quickly. This means you won't have to be inconvenienced by inclement weather that's pouring rain outside for long. While normal grass may be left soaked with puddles everywhere, this won't be the case with our artificial golf grass. In other words, you'll be able to play your favorite game right after a storm happens!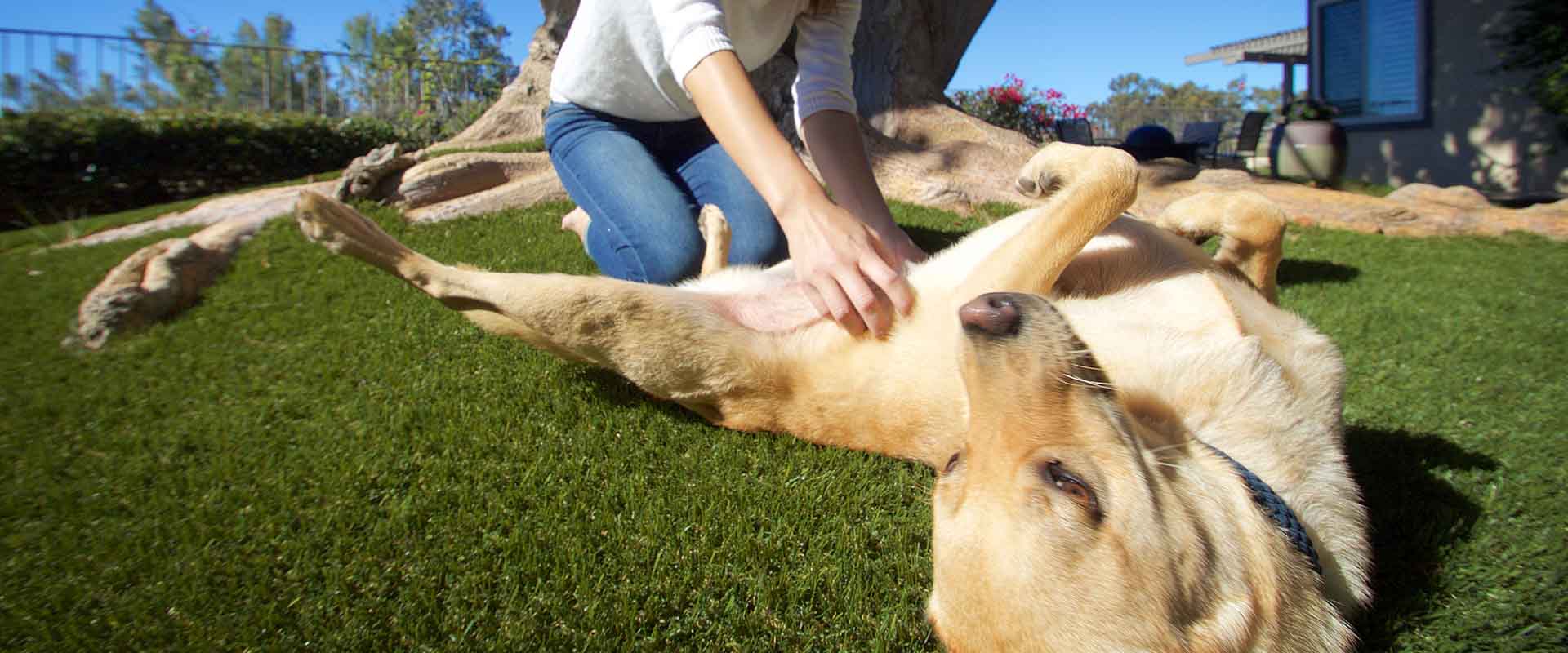 Pet & Kid Friendly
Our synthetic golf grass is very pet and kid-friendly. We all know that kids and pets can wreak havoc on natural grass. Children like to pull and uproot the blades and dogs love to dig. With time, this causes unsightly patches on the grass that need work to restore. Synthetic grass on the other hand is durable yet non-abrasive. It feels just like natural grass yet stronger. Kids or pets cannot damage it despite repeated use. It is very difficult for dogs to dig holes into artificial grass and the blades cannot be pulled or uprooted. 
Why Choose SYNLawn Georgia
At SYNLawn Georgia, we are particular about the quality of our synthetic golf grass. As such we maintain stringent quality controls throughout the creative process and ensure our artificial golf greens meet the highest standards. 
Additionally, our expert designers and installation technicians are highly trained and are adept at implementing any customizable idea you have in mind for your Atlanta, GA backyard. Simply tell us what you want, and we can make it happen!
Contact us and one of our very friendly staff will get back to you with a free consultation.