Artificial Grass Wall
A look at our latest work!
SYNLawn Georgia can bring vibrance to any space with hyper-realistic artificial green walls in Atlanta, GA and the surrounding regions. With little to no maintenance required these faux planted walls are an easy and stylish way to enhance any space. Perfectly suitable for indoor or outdoor placement. These customizable artificial green walls make for a long lasting and durable addition to any space.
Planted walls are beautiful when done by our expert design team and professional installers. With an artificial green wall you have the added benefit of it being hassle free. With our hyper-realistic design and attention to detail no one is able to tell that this is a faux living wall with a mere glance, and should they venture closer they will observe the natural looking movement of the plants as afforded by any gentle breeze or wind gusting through the area. Our clients enjoy the ease and durability of having an artificial green wall on their property.
A SYNLawn Georgia artificial green wall is sure to liven up any space indoors or outdoors. The possibilities are endless for the size and scope of an artificial green wall that requires little to no upkeep, making this a wise investment into your overall look and design of your indoor or outdoor space. Our expert team will help you design your ideal artificial green wall and we will build and professionally install it in your chosen location. Also, should you select a sunny spot for your artificial green wall you will be pleased to note that it is fade resistant.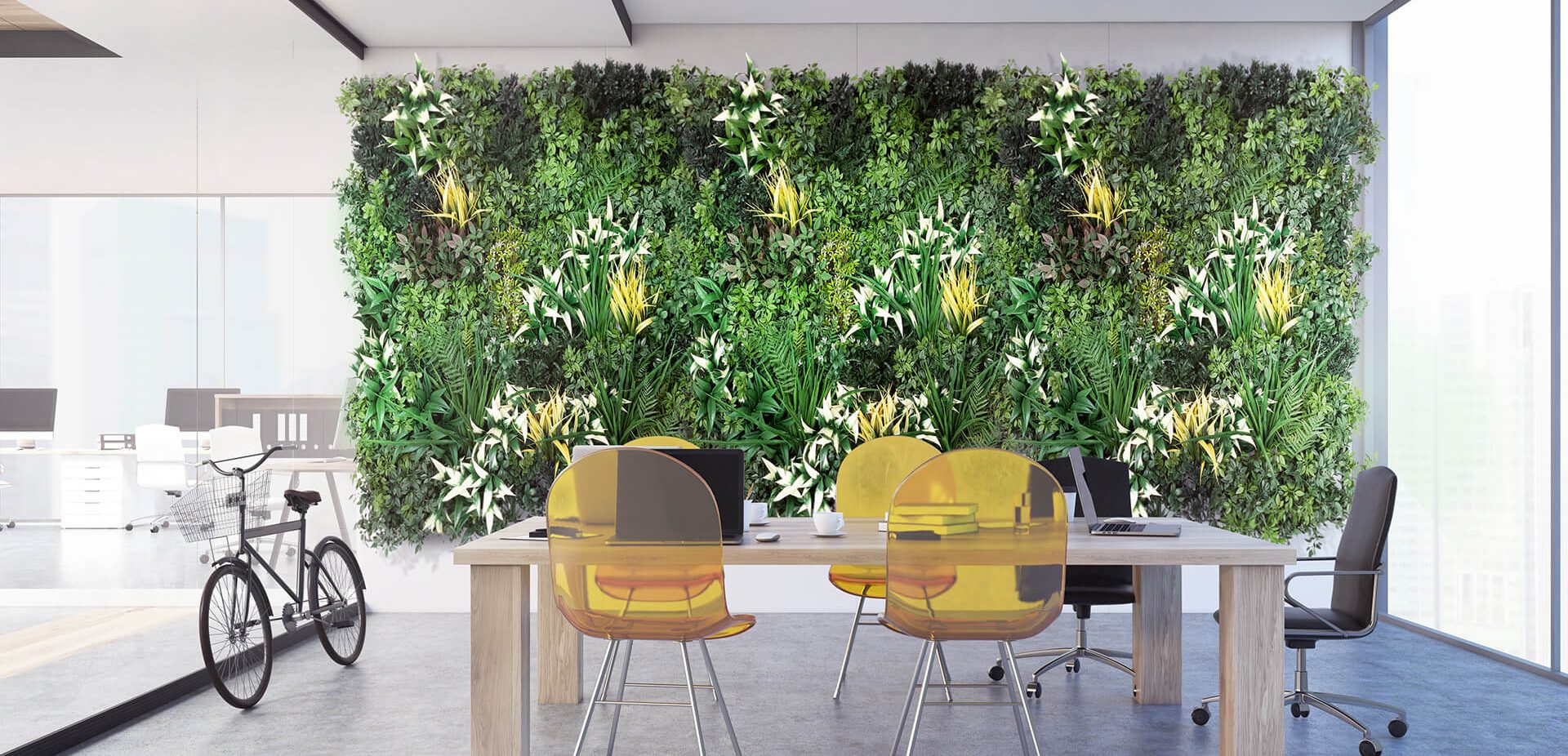 Residential
Enhance any space with our residential artificial green walls. Great for privacy screening, livening up an outdoor space or to bring a beautiful touch of lush greenery indoors.
These fully customizable artificial green walls are great to enhance entry ways, patios, balconies, bathrooms and more. Contact our experts to learn how to best maximize an artificial green wall for your space, today.
Commercial
Adding a synthetic green wall or an artificial grass wall is a perfect way to add new dimensions to your commercial space. All installed artificial plant walls are zero to low maintenance, perfect for any commercial space or office. Assisting with privacy, adding its inherent sound buffering while allowing for air flow these artificial green walls help to add the sophistication of well maintained garden greenery without the need and hassles for maintaining live plants.
Beautiful Artificial Green Feature Walls
Our fully customized and artistically designed artificial green wall is a beautiful way to brighten up any space. These are incredible statement pieces that are perfect for starting a conversation for any setting, providing a beautiful backdrop to any location.
Artificial Green Walls are perfect for:
Resorts
Destination Wedding Venues
Stadiums
Concert Halls
Restaurant Outdoor Dining Privacy Screening
Spa Centers
Massage Clinics
Office Reception Areas
Waiting Rooms and more