Adding a synthetic backyard putting green from SYNLawn Georgia to your home in Atlanta, GA allows you to practice your putts whenever you like. Nothing can beat the ease and convenience of owning your own putting green, especially when it is made from durable, low-maintenance artificial grass. At SYNLawn Georgia, we offer top-quality artificial golf greens along with putting green design and installation to help homeowners in Atlanta and other Georgia communities attain the backyard putting green of their dreams. With it, you and your loved ones can enjoy the game of golf practically every day, allowing you all to become better golfers.
Backyard Putting Greens from SYNLawn Georgia
Artificial grass putting greens are one of the most fun and attractive additions to backyards anywhere but especially in Atlanta, Georgia. These installations create beautiful green spaces that enhance the overall appearance of a backyard while also providing an activity that is accessible to people of all ages and skill levels. Fortunately, at SYNLawn Georgia, we are experts in synthetic putting green design and installation. Our team can craft an artificial golf green to meet your space and needs. Plus, with our high-quality synthetic golf turf, you will possess a perfect surface for putting.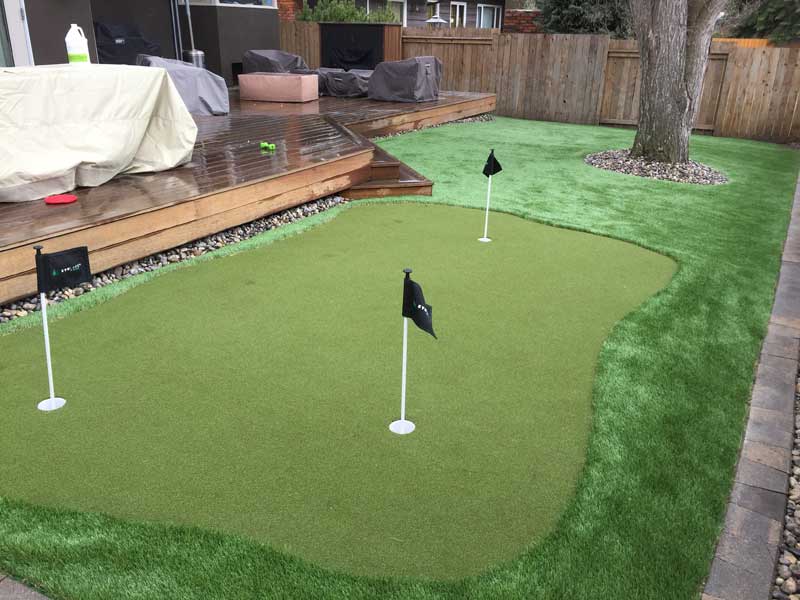 Benefits of an Artificial Grass Backyard Putting Green
At SYNLawn Georgia, our artificial grass putting greens provide backyards and homeowners numerous benefits, which include:
Aesthetic Beauty
Our artificial golf grass is outstandingly realistic in look and feel. This allows our backyard putting greens to look just like greens made from traditional grass. However, unlike conventional grass, our synthetic turf will never become overgrown, wilt, or die. Instead, it will offer homeowners and their loved ones consistent lush, green beauty.
Low Maintenance
Our artificial grass putting greens are also low-maintenance installations. Unlike traditional grass, which requires near-constant upkeep, our synthetic golf turf does not need to be watered via a sprinkler system, trimmed with a mower, or even treated with a variety of chemicals. Instead, our artificial backyard putting greens maintain a consistent look and feel with little maintenance from the day they are installed.
Durability
Golf can be a demanding game on surfaces. The wear and tear from swinging clubs and foot traffic can often cause golf surfaces to fall apart or develop holes. Thankfully, our artificial golf greens are distinguished in terms of durability. In doing so, our synthetic backyard putting greens hold up incredibly well against clubs, foot traffic, the weather, and more, which helps ensure an ideal playing surface for years to come.
Multi-Purpose Backyard Surfacing
Despite being designed and optimized for golf, our artificial golf grass is an excellent surface for many backyard purposes. Its soft, inviting touch and durability make it great for children or pets to play on. As such, it is ideal for several functions, including golf, lawn games, relaxing, and even picnicking. With it, you can own more than just a high-functioning putting green but also a multi-purpose, outdoor green space.
Improve Your Game Whenever You Want
With a beautiful backyard putting green from SYNLawn Georgia, you determine when it is time to practice your putts. Typically, the average golfer must get ready, gather their clubs, drive to a golf course or club, and then wait for a tee time or available putting green to get some practice. But with an artificial grass putting green just outside your home's backdoor, you control when you practice putting. No longer do you need to go out, drive, and wait at a public facility. Instead, you can walk outside and practice on your time, which can significantly help improve your game.
Learn More by Contacting Us Today!
At SYNLawn Georgia, we provide homeowners in Atlanta, Augusta, and Columbus, Georgia with the artificial golf grass surfacing, design expertise, and professional installation service they need to attain high-quality synthetic backyard putting greens. With our artificial backyard putting greens, homeowners can practice their putting whenever they want without having to worry about time-consuming maintenance.
Contact us today to learn more and receive a free quote for an artificial putting green of your own!